EGYPT 1942

I departed from Bombay with few regrets because my time in India had not been very interesting ,being stuck in one place for several months, although I had learned a little about Indian culture and lived well. Once again, my eighty year old memory has failed me, because I can't recall the name of the somewhat elderly coal burning passenger ship that was to take me to Suez via Aden. It took eight or nine days to cover the twenty five hundred miles to Aden and I have no recollection of any activity on board ship. On arrival at Aden we were going to stay a few days to take on coal, which here was a lengthy process because the coal had to be brought out to the ship, bagged, in lighters (barges) and then hauled on board by crane and the bags emptied by hand. There were swarms of local laborers involved and a close watch was maintained to ensure that the empty bags remained empty on their way back to shore ! This activity meant that there would be time to go ashore, not that Aden was a very exciting place but it had a long history of importance economically and strategically, it also was a suitable watering hole for bored passengers.

Aden is an unusual town situated the crater of an extinct volcano. The town is surrounded on three sides by enormous cliffs, the fourth side being open to the Indian Ocean. The water supply is from ancient storage tanks cut into the side of a gorge above the town. Aden is primarily involved in shipping and is a free port. The down town area consists mainly of shipping offices and consulates. The older part of town is home to many bazaars selling all kinds of merchandise from the Middle East. Being in a bowl it can get excruciatingly hot, and I and another officer lost no time in locating a hotel and cooling off with a cold one. We got into conversation with a local English business man who suggested that if we were after night time entertainment, we should take a taxi out to Sheik Othman, a small village where was a very nice resort that dedicated itself to the entertainment of questing males. It was also notable for the exquisite flower gardens in the area being an oasis with artesian wells that also complemented Aden's water supply.

We took our business man friend at his word and found he had by no means exaggerated .Long before we arrived at the village we could smell the Jasmine ,which I had continually smelled in India, but never as strong as this! The perfume from other exotic flowers added their perfume to form a very heady environment, that had an almost aphrodisiac effect on me. Our friend had also not exaggerated the quality of the place of entertainment. The building was very arabesque in design and welcoming staff were dressed in white gowns and red fezzes. Inside there were rooms with arched door ways furnished with persian rugs and low divans and numerous brass urns filled with beautiful flowers and potted palms. There were several patrons of both European and arab appearance and several girls lounging on the divans.

A somewhat pudgy arab approached and with a bow asked us what he could for us, which at that moment had to be drink, so we told him a beer would be fine. He invited us to sit down and summoned a very scantily dressed girl, probably Somali, to fill our order. He had obviously noted our interest in the serving girl, so he now asked us if he could provide a further service to which we responded that it was entirely possible, and after ascertaining and agreeing to the tariff, we were offered a selection of very attractive females of varying ethnic origin. I will not bore the reader with further details, suffice it to say that we spent a very pleasant evening in a very exotic, as well as erotic atmosphere for a surprisingly modest outlay.

The coaling completed we departed Aden and headed for Suez another fifteen hundred miles away or about 4 days. At Suez, Unremarkable except for shipping waiting for entry to the Canal and shipping exiting, I boarded a train for Alexandria, although it was not a troop train as such it was loaded with troops as well as civilians..The route was basically followed the Suez Canal most of the way and there were many stops a places that were only a handful of huts, but there always lots of people at these stops trying to sell passengers various items of food, with mixed success. The food was mostly sticks of bread and tiny hard boiled eggs. At nearly all these stops there were small boys lifting their shirts to expose their penises, god knows why ! Any passenger with an inclination for boys would hardly have time to avail himself of the offer !

We finally arrived at Cairo but did not stop long enough to do any exploring but I did manage to see the Pyramids as we reached the outskirts of the city. The scenery was endless desert with occasional green area but in the distance there was nothing to see but sand, certainly forbidding and I wondered what service in the desert was going to be like. I would soon find out.!

Alexandria is a very large city, teeming with people of very cosmopolitan origins, not really surprising in view of it's history. In 1942 there was very little in the way of high rise buildings. In the city centre is the Mohammed Ali Square with a large equestrian monument. Surrounding the square are various very solid buildings of European style including the large church of St. Marks. Trees line the square and a multitude of busses and street cars begin their journeys from here and can be quite hazardous to your health if you are not careful! Not far from the square was the Hotel Cecil which I later found to be the Mecca for deprived officers from the Western Desert. I reported to Movement Control at the station and after a phone call was told that someone would be coming to pick me up shortly. After a considerable wait 15cwt Bedford arrived with a driver who I would come to know very well Private John Silver, fortunately with both his eyes.!

He told me we were going to Amyria due West of Alexandria, in the desert about ten miles away which was a large base camp serving many units and was a kind of gateway to the desert On arrival I was delivered to an office with the sign CRASC 5th L of C ( Line of Communication) I reported to the Adjutant who greeted me pleasantly and welcomed me to 30 Corps 8th Army. He said that for now I would be assigned to the 8th Bulk Petrol Transport Co responsible for deliveries of petrol to all military units up to the front line, wherever that might happen to be.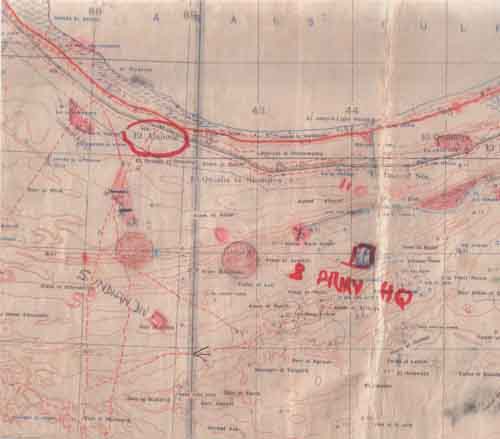 Transporting petrol to various army and air force units may not sound particularly exciting but when you have a convoy of twenty five 800 gallon tankers traveling the one and only road along the coast especially with it's black top, albeit, narrow showing a black line against the white of the desert, you are a perfect target from the air, and well the Gerry knew that! At the time of my arrival we were still in Libya but I never got that far west .1 was too busy servicing units in the Western Desert just short of Mersa Matruh which was in enemy hands for the second time. The convoys we ran from our base in Amyria include a stores truck and a water tanker plus my 15cwt pickup that carried me, my batman/driver and gear. My batman/driver, batman being the term for personal servant, was the same John Silver who had come to meet me in Alexandria, and elderly Cockney who I got to be very fond of as time went on. My 15cwt truck had circular hatch in the roof of the cab which I could open while John was driving so that I could stand up with my binoculars to observe my convoy and scan the sky for possible air attack. In those days you were on your own, no cellular phones or radio unless you were in Signals or the tank corps. Often the only warning you would get would be the thud of machine gun bullets around you or even worse the sound of bombing which might be the end of one of your tankers ! Our tankers were camouflaged with paint and netting which was good if they were not in motion but when moving the dust they raised was a sure give away and Gerry loved petrol tankers ! All along the coastal road there were "slit trenches" that is trenches scooped out by succesive passers by that, althoug only about eighteen or twenty four inches deep could provide some protection if you were able to get to one in time under attack. They were just long enough for the length of the man who had dug it, so maybe you were in luck or "tough titty' ! I well remember an occasion using a slit trench when under attack from strafing ,fortunately from a poor aiming Messerschmitt pilot I quickly signalled to stop and run for cover and my drivers left there vehicles and dove for the nearest trench, if there was one ! Not only were bullets a concern but an exploding tanker demands some respect.

On this occasion I yelled to John Silver to run for cover in a trench, which he did ,unfortunately he ran for same one that I did ,but I got there first, barely, the next moment he was on top of me just as the Gerry came back for another strafe. We could hear and feel the bullets thudding into the ground beside us as the plain roared by and suddenly John cries out that he had been hit and was bleeding. As the noise of the plane's engine faded away and, thankfully, for good I asked John if he was in much pain and could he move so I could get out of the trench. At this point I was figuring that he had saved my life, and I was very concerned for him. He said he was in no pain but could feel he was bleeding on his backside. He managed to stagger out of the trench and as he did there was a terrible smell and I knew right away he was unhurt but had shit himself! Poor John Silver, he was so embarrassed and shaken up. We lost one tanker but no one was hurt. John was never the same after that incident and had a nervous breakdown that sent him back home.

I was not long with the tanker coy. Before I was posted to 309 General Transport Coy., also headquartered at Amyria, I was not sorry to get away from the fuel business, it was too dangerous if I was going to die, I would rather be blown to bits, not burned to a crisp! I was given No. 3 Platoon with thirty 3 ton trucks plus a water tanker and my 15 cwt pick- up. My company's job was to service the front line and support units with everything they needed ,such as fuel in cans ,ammunition, mines, food, as well as the NAAFIs (Navy, Army, Air Force) canteens on the supply lines.

Life in the desert was certainly a new experience, sometimes quite pleasant ,because often we were not far from the Mediterranean and could go for a swim to cool off from the scorching heat. And yet at night there could be fros^! It was hard on the system to dehydrate in the day and freeze at night.! The two worst things in the desert were the flies and the Khamsins (sand storms) We had fly nets to put over our heads while eating if they were too bad, but the sand there was little defense against .You ate it, it was in your eyes, ears, hair, in your clothes and the storms could go on for days at a time. Visibility was so poor sometimes that the fighting more or less stopped. Food in the desert was mostly adequate but uninspiring, largely canned meat and vegetables, dried dates and sometimes oranges. Tea was usually brewed by boiling water in a mess tin over a fire produced by pouring some petrol into the sand and igniting it. If we were at HQ we would sleep in tents or sometimes huts, but out in the desert mre or less any way we could ,usually in our vehicles. Actually my pick up was quite comfortable the way I organised it John usually slept in one of the trucks or on the ground.

On the road we never knew what we were going to run into, sometimes we got bogged down in sand drifts that had covered the track we were following, sometime there was no track at all and we were navigating to a unit by compass and maps. The problem in the desert id that mostly everything looks the same. I you could identify a ridge or some rocks, you were lucky. All transport officers were equipped with a sun compass, something like a sextant measuring the angle of the sun at specific times of the day. I never actually used it although it was part of my training. When delivering supplies to front line units it was important to know what was happening because advances and withdrawals could happen very quickly which could add to an already confused situation .On that subject I recall a scary situation which was partly due to incompetence and partly to the fluidity of the battle front.

I received orders one day to take a convoy loaded with mines up to the front line I had to load up twenty five 3 ton trucks with 12000 mines and deliver them to the 5 * Indian Division at a map reference south of El Alamein. I had to go to Burg el Arab a large base supply depot just outside Alexandria to load up. I enclose a copy of the order on the original message form (just to prove I don't make up all this stuff!) My orders (not written) were to proceed to El Alamein and report to advanced 8* Army HQ for routing instructions before proceeding South to the 5 th Indian Division. I duly arrived with my convoy at El Alamein and found 8th Army HQ with some difficulty asit was underground in a concrete bunker. After a short discussion with a staff officerand making notations on my map I had an agreed route to take.

At Alamein itself the 9th Australians were deployed and in a moreor less straight line South were the 1st,2nd and 3rd South African brigades,and still further South was the 5th Indian Division.Alltold I had about 10 miles to reach the Indians.The route I had been given was down a well travelled deset track known as Springbok Ave, because of the proximity of the South Africans. Springbok Ave ran South over undulating desert terrain so that I could never see my entire convoy at one time when I stood up through the hatch in my 15cwt truck. We had travelled three or four miles South when suddenly there was a lod explosion about twelve vehicles back which was quite a distance since our spacing was about thirty yards J4old the lead truck to keep going and I ran back in my vehicle to see what was happening but there was no damage to any vehicle but there was a big hole in the ground close by and a lot of dirt in the air.And then there was another explosion and shrapnel flying about which hit a truck and I realised we were under enemy fire. We must have been a moving target every time a vehicle topped an undulation ! It seemed that we had been routed throgh no-man's land with 12000 mines on board. I ordered all vehicles to find a low spot will I consulted with my NCOs.(a cell phone would have come in handy!)There was no choice but to get going again and hope the Man Upstairs was in a good mood.! As soon as we moved again we started to raise dust and there were a few more shell bursts, fortunately not too close.

On my arrival at 5th Indian Div. I related our experience and the local "brass" was concerned because they were not aware of the closeness of enemy artillery.I had to fill in a detailed report to them and on return to my own HQ another one to be sent 8th Army.

Another interesting adventure took place when we were in retreat to El Alamein, at a time when things were going very badly for us and Rommel was in his ascendency. Tobruk and Mersa Matruh had fallen and Rommel was going hell for leather towards Alexandria. I was at our Coy HQ in El Hamman not far from Alex and I was about to negociate a weekend pass to Alex., when I was suddenly told that I had an emergency assignment and was to take my platoon forthwith to Fuka and evacuate the NAAFI before the enemy got there. I was to load anything and everything but things got too hot destroy the beer, but make sure of the liquor!

Fuka was about forty miles west along the coast and at the foot of a steep escarpment which was being held by the Allies in a rear guard action to allow the withdrawal of the main Allied forces back to El Alamein and a line south from there in a last ditch effort to save Alexandria and the Suez canal. When we got there with difficulty because of the mass of a retreating army we could already hear gun fire up on the escarpment, so I figured we had better get cracking.

NAAFIs were ubiquitous to every theatre of war as well as other areas serving the armed forces their inventory covering just about everything a general store would plus beer and liquor, beer for the other ranks and spirits for the officers, although the officers could also enjoy the beer, and in the desert was very welcome. There was food and clothing, toilet articles, cigarettes and tobacco and countless other items. The order of business was to grab everything to hand and never mind how it fitted in the trucks, just load it and we had plenty of trucks I made sure all the liquor was secured and had most of the trucks with something in them although badly loaded. The NAAFI manager was most relieved that most of his stock would be saved, but it was too late to save the beer which was all in glass bottles and on crates, because the fighting was almost upon us and we had to get out fast. My seargent had a Bren machine gun, so I told him to demolish the stack of beer crates to ensure the enemy would not be able to slake his thirst. The wooden building we left intact but that was about all that would be useful. Returning to base was no easy matter with the congestion on the road, although lighter vehicles were driving in the desert. We finally made it to Amyria without incident and much to the relief of the NAAFI supervisor on site. We had hardly unloaded and were preparing to go back to Coy HQ when I received word that I was to go straight back up the desert to El Daba a village about halfway to Fuka, where there was another NAAFI. I was to evacuate this one immediately as the enemy was still advancing. Off we went again and repeated our performance at Fuka, but this time we retrieved the beer, and strangely some got lost on the way back to Amyria ! There was no investigation.

Shortly after the 8th Army had stabilized a line at El Alamein and we were engaged in fairly routine supply operations a new armored division arrived in the desert, the 8th Armored, straight out from the UK. This unit was newly formed from the Green Howard Rgt. I was driving down the coast road one day with a convoy when I saw the sun reflecting on dozens of vehicles some way off approaching us .As they got closer I could see they were Churchill tanks and supporting vehicles. They all had varnished green paint and the personnel ,visible, all had polished brasses on Their webbing equipment and the whole outfit was one big advertisement to both enemy ground forces and aircraft. We just couldn't believe our ehes as this shining column passed us by. We had no idea of where they were heading and they fast disappeared behind us as they headed west towards the front line. It was good to see reinforcements but I and others wondered how useful they were going to be, as they appeared to be as green as their vehicles ! A short time after we heard that they had been in battle and got badly mauled ,mostly, we understood because they were directed to take up position on the front line opposite a weak Italian armored unit ,and ended up opposite a German Panzer tank column ,because the had mixed up a bearing instruction with a map grid line, which placed them in entirely different location.

Every few weeks I managed to get a weekend pass to Alex and welcome they were, if only to get a decent shower and remove the accumulated grime of the desert and sometimes lice ! In the desert was probably the rarest commodity and even at base camp an elevated 45 gallon barrel and a tap in the bottom to provide an apology for a spray of cold water was the Rolls Royce of a shower .more common was a bucket of water strictly rationed. So to be able to stay in an army hostel in the middle of a city and stroll past shops and restaurants in clean clothes was the height of relaxation.

Entertainment in Alex was somewhat limited for a weekend stay, other than eating and drinking well. The female element was relatively small and well attended by residential males both civilian and military .The more respectable class of women were quite cosmopolitan ,including French and Greek of which there was a large number. There were, of course, countless brothels, but I figured I would rather be safe than sorry ! There several cinemas, but the films were mostly with French or Greek sub-titles. However clean clothes and no sand did a lot for my morale not to mention the absence of gun fire and star shell lighting the night sky.

On the 8th August 1942 I received a posting to East African Command, which although a complete surprise was by no means unwelcome, I was quite prepared to leave the desert ,the sandstorms and the flies without a whimper My orders were to report to Mobilization centre RASC, Quassasin, a suburb of Cairo. Having reported to the Mob. Centre Ffound that East Africa was not to be immediately. I was to report to Ismailia on Lake Timsah, which forms part of the Suez Canal system, where I was to take up Town Major duties while the regular incumbent was on leave. Ismailia has a long military tradition and was Middle East HQ for Allied Forces during WW1 and during WWII was concerned with the movement of military traffic through Canal. Also during the time I was there King Farouk was under detention on his yacht out in the harbor in view of his pro-Axis leanings. Every day a military police detail under an officer had to go aboard to ensure that His Majesty was present.

Ismailia in those days was a very pretty French Colonial style town with quiet tree lined avenues and turn of the century style stucco houses with red roofs .1 don't think I have ever seen such a laid back town ,there seemed to be few people in the streets and the stores were not busy. I was staying in the Military HQ building which was very comfortable in a colonial style with a well equipped officers mess..There were several military types representing all three services and my job was basically paper work concerning the operation of the establishment.,quite a change from the desert! .There was really little to do and I was glad when the absentee returned and within two days I received my orders for East Africa. I left Ismailia by train for Suez where I was to join a ship going to Mombasa. The ship , whose name I don't recall, turned out to be transporting hundreds of Italian POWs to Kenya for internment. I was assigned a group of them to look after until we reached Mombasa when I would make my way to Nairobi for further orders.

The prisoners accommodation was very basic ,essentially, hammocks slung in the cargo holds of the ship. I had a comfortable single cabin on the top deck which was reasonably cool with the help of a fan in the atrocious heat .The prisoners cooling was accomplished by the ram air through the deck ventilators which didn't help much until the ship got under weigh. So many hours a day they were allowed on deck in groups under guard They were a sorry bunch most of whom had no ambition for war or conquest at all and, in fact, had proven to be poor soldiers much to the disgust of their German colleagues .There were a couple of doctors among them and several officers in my group, several of whom could speak reasonable English. One or two were talented artists and asked for paper to draw pictures on. I provided one artist with paper and he did a very good sketch of me. The voyage lasted ten days and I was thankful when I could hand over my prisoners at Mombasa and head for Nairobi and the rest of my life !

John Saintsbury