A selection of highly recommended Children's books about World War Two
available at discounted prices,

in association with



Prices quoted correct November 2002, please click "More Information" to check for any changes

Carrie's War
Nina Bawden
Our Price: £3.99
Evacuated from London to Wales during World War II, Carrie and her brother are sent to live with the very strict Mr Evans. In trying to heal the breach between Mr Evans and his estranged sister, Carrie does the worst thing she ever did in her life.


More Information on
Carrie's War
Also Available as an audio book, price: £7.19
More Information on
Carrie's War - Audio Book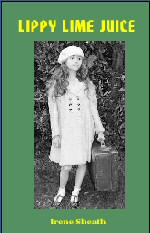 Lippy Lime Juice
Irene Sheath
Our Price: £5.99
Katherine Capper doesn't have much to smile about. Her father is missing, her mother and grandfather have died. She now lives with her tired and cranky grandmother. Grandma names Katherine "Lippy Lime Juice" because she never smiles. Katherine decides to run away from home. She has a secret hideaway in the basement of a bombed out house. One day she finds someone asleep there! Victor is also an orphan and has run away from his foster parents to find his sister Heather.
Lippy Lime Juice is a novel for Upper Primary Age children. In essence this is a story of how children are affected by the decisions of adults. It is about strength of character, survival and triumph over circumstance. It embodies the belief that whatever our material or social status might be, we all need friends

More Information on
Lippy Lime Juice
Party Shoes
Noel Streatfeild
Our Price: £5.59
Set during the second World War, this classic novel tells the story of Selina, who has been sent to live with her aunt, uncle, and cousins in the country. When Selina receives a parcel from her godmother in America it causes much excitement among her and her cousins, and, to Selina's delight, the parcel contains a beautiful party dress and a pair of party shoes. But delight turns to dismay when she realises that she may never have an occasion to wear such a wonderful outfit - until that is, she and her cousins come up with the idea of organising a pageant...
More Information on
Party Shoes

The Blitz - the Diary of Edie Benson, London 1940-1941
Vince Cross
Our Price: £3.99
It's 1940. Edie Benson lives in a little house in Lewisham, London, with her family. Little does she know when she starts writing her diary that the summer is going to become one of air-raid sirens, bombs, and lead to the evacuation of herself and her brother to Wales.

More Information on
The Blitz - the Diary of Edie Benson

The Machine Gunners
Robert Westall

Our Price: £3.99

Living in World War II Britain, Chas McGill is determined to outdo his rival Boddser Brown in obtaining the ultimate war souvenir. When he finds a crashed German bomber in the woods complete with machine gun, he knows he can not only beat Boddser hands down, but can also play a role in the war.



More Information on
The Machine Gunners


Fathom Five
Robert Westall
Our Price: £3.99
Is there really a spy in Garmouth? Too many Allied ships have been sunk by German U-boats, and why else would there be a radio transmitter floating down the river? Jack's search for the spy begins almost as a game.Is there really a spy in Garmouth? Too many Allied ships have been sunk by German U-boats, and why else would there be a radio transmitter floating down the river? Jack's search for the spy begins almost as a game.

More Information on
Fathom Five

Warpath 7: Night Bomber

J. Eldridge
Our Price: £3.99
John Smith, a 19-year-old flight engineer, has survived two horrific crashes in which his crewmates were killed or badly injured. He's seen as bad luck and struggles to be accepted. Things get worse when his plane is badly damaged on a mission.
More Information on
Night Bomber

Tug of War
Joan Lingard
Our Price: £3.99
Forced to flee Latvia with their family in 1944, twins Astra and Hugo journey to Germany in carts, on foot and by boat. But at a crowded station, Hugo is injured and separated from his family. In their subsequent search for each other, Hugo and Astra fear for each other's safety.
More Information on
Tug of War

Number the Stars
Lois Lowry
Our Price: £3.99
It is 1943 and for ten-year-old Annemarie Johansen life is still fun - school, family, sharing fairy stories with her little sister. But there are dangers and worries too - the Nazis have occupied Copenhagen and there are food shortages, curfews and the constant threat of being stopped by soldiers. And for Annemarie the dangers become even greater... her best-friend Ellen is a Jew. When Ellen's parents are taken away to be 'relocated' by the Nazis, Ellen is taken in by Annemarie's parents and suddenly Annemarie's family are under threat too. Annemarie has to call upon all her resources for courage and bravery as she helps her friend make a daring escape.
A Newbery Medal winner by an acclaimed author *For readers from 8 to 12 *
More Information on
Number the Stars

Warpath 6: Beach Assault

R. Eldworth
Our Price: £3.99
The beaches of Normandy were the only viable landing points for the Allied Forces. At the same time, it was acknowledged that this section of the French Coast was heavily fortified and the authorities realised that the use of conventional tactics such as combined tank and infantry would not prevail. A solution was proposed by the brilliant, eccentric General Hobart which involved the creation of special assault vehicles (avres). Our hero is a driver of one of these tanks - his job to pave a way through minefields, barbed wire and anti tank trenches, allowing the Canadian Infantry through. Highly dangerous and truly heroic, this is one of the great untold stories of World War II.
More Information on
Beach Assault

Johnnie's Blitz
Bernard Ashley
Our Price: £3.99
Toddler Shirley survives when a bomb hits her house during the Blitz, but runs wildly into the night to try to find her mother. Meanwhile, Johnnie, on the run from reform school, reluctantly becomes Shirley's saviour. But if he returns her safely to her parents, he risks capture.
More Information on


Out of the Hitler Time
Judith Kerr
Our Price: £7.99
This trilogy is a largely autobiographical account of how Anna and her family flee Germany in 1933, travelling to Switzerland, then France, then England. In London during the Blitz, Anna is an "enemy alien". After the war she returns to Berlin where her mother is very ill, and must face the past.
More Information on
Out of the Hitler Time

Warpath 3: Behind Enemy Lines
J. Eldridge
Our Price: £3.99
Part war story, part fact book, this title reveals what it was really like to take part in a Commando mission during World War II. You are transported in to the jungles of the far East. You then are taken on patrol behind Japanese lines. The true stories of the commandos is here.
More Information on
Behind Enemy Lines

Keeping Henry
Nina Bawden
Our Price: £3.99
A humorous story about a family evacuated from London to a farm in Wales during World War Two, and Henry, the mischievous squirrel who comes to live with them.
More Information on
Keeping Henry

The War Guests Trilogy Book 1: The Sky Is Falling
Kit Pearson
Our Price: £3.99
Against her will, 10-year-old Norah is evacuated to Canada with her five-year-old brother. After a long voyage, they are sent to the home of a rich women. Although Norah is miserable, she realises that Gavin needs her support. This is from a World War II trilogy about a British brother and sister.
More Information on
The Sky Is Falling

The Little Ships
Louise Borden

Our Price: £5.59
A fictional account of a child's involvement in the 1940 armada of ordinary people that accompanied the Royal Navy to help rescue soldiers from the beaches of Dunkirk. The book is suitable for young and older readers and is illustrated by Michael Foreman.
More Information on
The Little Ships

The Arpino Assignment
Geoffrey Trease
Our Price: £3.99
The story begins in 1943 when young Rick Weston is summoned to the War Office and informed of the top secret work of the Special Operations Unit. He finds himself on a mission which leads him into all kinds of exciting, dangerous and romantic adventures
More Information on
The Arpino Assignment

The War and Freddy
Dennis Hamley
Our Price: £3.99
September 1939 - Freddy is three, and World War II begins. All he knows is that his father has gone away and may not be back for some time. Seen through the eyes of Freddy, the book follows his life year by year through the war, bringing out all the anxieties and hardships suffered in a sensitive but often humorous way.
More Information on
The War and Freddy

Harry's Battle of Britain
Andrew Donkin
Our Price: £3.60
An adventure story set in war-torn Britain, as Harry Ryder, a ten-year-old city dweller is evacuated to the countryside in 1939. Harry faces a very personal battle when the locals view the evacuees as "invaders".
More Information on
Harry's Battle of Britain

Hannah Goslar Remembers
Leslie Anne Gold
Our Price: £3.99
This is the remarkable and very moving story of Hannah Goslar, a childhood friend of Anne Frank. Starting with the disappearance of the Frank family, supposedly to safety in Switzerland, Hannah's memoir takes us through the fear of waiting for the Nazi's knock at the door, the actual deportation and the fear, the anxiety and the sheer horror that awaited them at the concentration camps. Interspersed with the grim reality of Hannah's life after Anne's disappearance and her own family's arrest are flashbacks to happier times when Hannah, Anne and their friends played ping-pong and had sleepovers like any other young teenagers. The innocence of those times is in marked contrast to the horror, the dirt and the fear of Hannah's life as she desperately tries to keep herself and her young sister, Gabi, alive.
This is a moving and heartbreaking portrayal of the horror of living through the Second World War which adds another dimension to Anne Frank's diary. It is also the story of a young girl's strength and determination when faced with a situation over which she has no control and even less understanding. (Ages 10 and over)
More Information on
Hannah Goslar Remembers

Sweet Clarinet
James Riordan
Our Price: £3.99




Billy thought wartime was fun: fiery skies, playing amongst the rubble. Then a bomb falls on the shelter where he and his mother are taking refuge. Waking in hospital horribly burned, he longs for death until a precious gift from a soldier similarly disfigured gives him hope and a reason to live.

More Information on
Sweet Clarinet












Website © Copyright MM-MMIXI
- All Rights Reserved