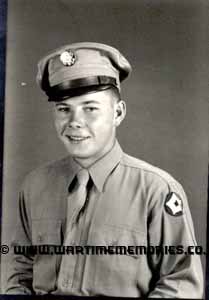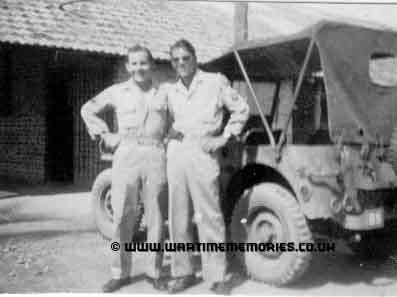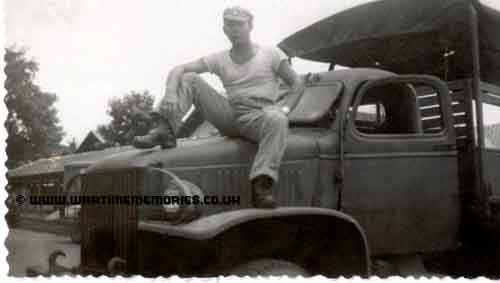 Here's a couple photos of my dad Charles Leroy Sinksen.
He was in HQ CO BASE SECTION INDIA THEATER BURMA. He was in MOTOR TRANSPORTATION 014 1944-1946.
Kebin Sinksen
This is a picture of my stepfather and two other soldiers taken at the Oriental Photo House, near Byculia Station, Bombay 8, India. I do not remember him talking to much about the war and wish to find out more now, sadly he died back in 1984 and I still miss him to-day. He mentioned fighting with Australians against the Japanese in Burma. If any one recognizes the other two soldiers, or what rank, group or any information I would be so happy. His name William Charles Bray (Bill) and lived in London up til about 1965 then moved to Basingstoke Hampshire. Yvonne Bray-Bonnage
This a photo of 202 Squadron, Gibraltar 1943-4? Does anyone have the original? I would like to get one and would pay any expences. George Smith
My mother, Annie Michael, is standing at the rear, third in from the right. (under the open window) My mother is now 83 years young and is a bit vague about the photo. All it say's on the back is Ripon 27th. June 1943. Does anyone recognise this photo?
Duncan Michael.
Cyril Whittaker

Welsh Guards, Caterham 1943

Cyril Whitaker, 53 years apart
These pictures are submitted by the very proud daughter of Cyril Whittaker (2738883) Welsh Guards-support company-anti tank platoon-July 1943-1947. Handsome devil isn't he ? If anyone knows my dad or served with him please e-mail him and give him a wonderful surprise. He is now 78 yrs old and fit as a fiddle.
This is a photo of unit 15MSD RASC taken at Ascot racecourse sometime early 1945, The following names are recalled:
Row 1 left to right, No 13. Lt (Slasha) Sasha and No 14. Lt ( Bud) Abbott, No 18 was the transport Sgt? played the piano in the unit dance band.
Row 2 No 1, A sgt called Connie, I met her once outside Maidstone Post Office about 1958, she was then married with a young child. No 15 Dot (Dorothy) from Blackpool
Row 3 No 1 is me, No 16 Bertha from Bradford
Row 4 No 2 (with cap on side of head) is Driver Doug Revers a builder from Coventry, I met him once after he was demobbed about 1946/7. No 3 Driver Bob Mouncey from Grimsby, No 4 Driver Dan Rogers ( a bus driver) from Ilford/Romford. No 12 is Bill Cross unit carpenter from Nottingham. No 17 Corporal Tim/ Collins (Irish) I met him at his home in 1958 and he was living only a couple of miles from Ascot in a council house.
Row 5. No1 Driver Taffy Burroughs from Bridgend, South Wales. No 4 was Driver Dick Mills an Ex Grenadier of WW1 who was well over 60 when this photo was taken.
I would like to make contact with any survivors or relatives. If you know anyone on the photo please get in touch.
Albert Williams
My Dad, SSgt. John F. Johnson, served with the US Army in England during W.W.II. I have his dog tags. He married an English girl (Nellie Ashworth) and raised 3 children in the US (I am the youngest). Anybody know them?
Email me at cjr1@home.com if you do.
Would somebody have known my Grandfather, GEORGE PIGEON, who was in Oflag X D, I know that his time was split between Colditz and Fischbeck? I thank you in advance for all information received.
Quelqu'un aurait-il connu mon grand père à l'oflag X D, je sais qu'il est passer part Colditz et Fischbeck ? je vous remercie d'avance pour toutes informations reçues
Georges Huygen
This photograph was taken at Tarrant Rushton airfield in 1944.We were with 190 Squadron at the time and the Skipper's name was Jack Britten. the details are:
Back Row:- L/R.D.Sewell(Flt.Eng).H Whitehead(Rear Gunner) P.Oliver(Mid/U.Gunner)A Andrews(W/op)
Front Row:- W.Davey(Bomb Aimer) J Britten(Pilot) ? Clarke(Navigator)
I am still trying to trace:-P.Oliver( Rhodesian Air Force) A. Andrews, Jack Britten, and ?(knobby)Clarke who went to Broadstairs for his Honeymoon. Any information on these guys would be appreciated,very much.
Howard Whitehead.
This is my father Stan Hilton who went to war age 22 years in 1940, along with his nine brothers, eight of whom served overseas in North Africa, Italy, India and Burma. On the left basic training in the Royal Artillery completed in Yeovil while the other photograph shows him getting his knees brown on leave in Cairo, May 1942. He survived the war along with the rest of his brothers and lived into retirement until he was 81 years old.

Stan Hilton.

ID card (I saw somebody asking about one).
This is a picture my father gave me, he is situated 2nd row down 3rd person in from the right hand side, his name is Dennis William Elliott. This picture was taken at Aldershot Football Ground. He then joined the 1st Royal Tank Regiment and served in Belgium, Holland and Germany. On Good Friday 1945 he was blown out of his tank and taken prison and taken to Stalag 10B in San Bostel near Bremen and Hamburg. He was 17.5 years old when he first joined the 58th Training Regt. Royal Armoured Corp at Bovington Camp for 6 months. At the age of 18.5 years old he joined the 1st Royal Tank Regiment. Does anyone remember him? He is still alive and living in Hampshire, England.

Janis Harris

My uncle Fred Forrest was an observer on a Halifax that was shot down over Zuhlen, Germany on January 29, 1944. He was with 419 sqdn.

The crew is standing in front of Halifax II serial number JD-468 coded VR-W. He wrote on the back of the crew photo the names of the crew and that the photo was taken on October 4, 1943. It was in this plane that all of the members standing in front lost their lives on the night of January 29, 1944, during a mission over Berlin.
Marny Forrest

Wilfred Jones is the one on the far Right of picture, the person in the centre may be his Brother
This is a photo of my father who died in the 1950 after leaving the army. He was born and joined somewhere in Yorkshire I believe, but I do not know anymore and would love to trace his army life. I was 8 when he died so know so very little about him. My mother is now also dead so I really feel the need to follow up any leads anyone may be able to give me. Does anyone know the uniform or the badge on the hat or the arm, unfortunately not very clear. (I have been told the year maybe 1942 by a very kind gentleman from Canada who has been trying to help me with my search.)
I think he was in the Artillery but not sure. His name was Wilfred Jones 1922-1956.
Cindy Hutchinson

Here is a photo of my dad, Alexander Brian Millar 1918-1989, (standing) who was drafted in 1939 and served in the Royal Artillery then in the British 8th army when he was attached to the US 2nd army. He spent time in Italy and Africa. We think this photo is his draft picture. We do not know who the other man (seated) is, if anyone recognises him off course we'd be thrilled and also if anyone recognises my dad.
Elaine M. Tayefeh

This is my grandfather Private John `Jack` Allen of Stalybridge,Cheshire. He served for 12 years with the Territorial Army and was at Rekjavik,Iceland in WW2 with the Duke of Wellington Regiment. I only knew him for the first seven years of my life as he sadly passed away on the 27th May 1967. He was a great character, always in the workshop building things,and always made me laugh. The day he died mum had sent me away to stay with relatives, so I never got to say goodbye! I just wish I had known him longer.
If anyone knew him on Iceland in WW2, I would really like to hear from them. "God bless you grandad!"
David W.Earl.

N.B. David has had some very interesting books published:

This is a photograph of my father, Robert Victor Ward (known as Vic).

He was born in October 1900 and thankfully missed fighting in the Great War, but served in the Royal Artillery throughout World War II. He survived the conflict and passed away through ill health in 1961.


I was born during W.W.II and my earliest memory is of my mother grabbing me up and running for the air raid shelter in our garden when I stood at the front door watching the planes and listening to the sirens over London. I could have been only two, but the memory is still very vivid in my mind. A lot is written about the servicemen and women during W.W.II, but I would like to praise the women who were left at home to care for growing families. I am the youngest of four children; my eldest sister was just ten when our father was conscripted. In fact he left home the day following her birthday and I was born four days later! None of us were evacuated and when my grandmother died early in 1943, granddad came to live with us. Mother was a rock on which we all leaned.

We were fortunate in that Dad came home at war's end, so many families lost their men.

Margaret Elsden
This is my uncle, 2nd Lieutenant Alec Frederick Bennett of the East Yorkshire Regiment, who was killed during the Salerno landings. If anyone has recollections of either him, the East Yorkshires or the campaigns in which they fought I would be very grateful to hear from you. Thanks.
M.R.Bennett

If you have any information please get in touch with The Wartime Memories Project.

---
Reply:
Has the sender of the photo got this information from the Commonwealth War Graves Commission Site?
240277 Lieutenant ALEC FREDERICK BENNETT East Yorkshire Regiment who died on Saturday, 11th September 1943. Age 23. Additional Information: Son of Frederick William and Mary Susan Bennett; husband of Ursula Bennett, of Ecclesall, Sheffield.
Commemorative Information Cemetery: SALERNO WAR CEMETERY, Italy Grave Reference/ Panel Number: V. E. 7.
Location: The War Cemetery lies between Battipaglia and Pontecagnano on the north side of the main SS18 coast road, leading south from Salerno. It is 14 kilometres south of Salerno and about 6 km from the Battipaglia exit from the autostrada A3. Historical Information: It was near Salerno that British and American forces landed in Italy on 8th-9th September 1943, and there was fierce fighting for some days in the bridgehead that they formed.
The site of the cemetery was chosen in November 1943; it contains the graves of men who died in the battle following the Salerno landings, and also graves that were brought in there later from a wide area of south-western Italy. No.59 British General Hospital was in the vicinity of Salerno at the end of 1943 and early in 1944.
There are now nearly 2,000, 1939-45 war casualties commemorated in this site. Of these, over 100 are unidentified. There is also, 1914-1918 war casualty commemorated within the site.
Lancelot H. Barron

The group shot is of "L.Cpl. Wynne's Squad "74" B.Coy; RAMC. June 1940".

My father, William 'Bill' James is 3rd from the left, rear row.
I know very little about this photo. I believe it was taken in Gibralta, it is the RAMC 1st XV rugby team. My father Bill James is seated 2nd left, middle row.
Huw James

My father served in the Lancashire fusiliers his name was Alfred Edward Jackson everyone knew him as Ted, his number was 3528283. This is a photo he had taken whilst on leave in 1939, the other photo was of his platoon. He served for 3 years in Gibraltar, 2 years in the UK then 5 years in Bombay and finally was demobbed in Newcastle.

There was a newsreel which was made for the families at home. My mum, and a lot of the family went to see it at the Gaumont cinema in Manchester town centre,I would love to see it again as my father spoke on it.

Sadly my father died last September 2000 age 86.

Pauline Hesketh

It is a class of trainee signalmen taken at HMS Royal Arthur, which was formerly Butlin's Holiday Camp at Skegness.
The date was November 1941.
I only sailed with one of this group after we had been drafted to ships and, sad to say he was killed when our ship got bombed off Scarpanto in 1944.

Peter Deacon

---
Does anyone have a photo of Class 35? Signalman Richard Smith was in this class and is looking for a copy.
This is my wonderful Granddad who has sadly passed a way now. He is Clarence Routledge who was a gunner in the Royal Artillery during the second world war.

Christine