Do you have a tape recorder, digital voice recorder or camcorder?
Do you know someone who lived through the Second World War?

Please help The Wartime Memories Project to ensure that the many and varied contributions are never forgotten.

If you could spend some time talking to your friend or relative about the war, record the conversation and send a copy to be preserved in our archive, you will be helping to make sure that future generations have the opportunity to hear the experiences first hand.

If you know anyone old enough to remember the Great War we would love to hear their recollections.




Please Click here and print the form to send with your recording


Click here for some sample questions you may find useful.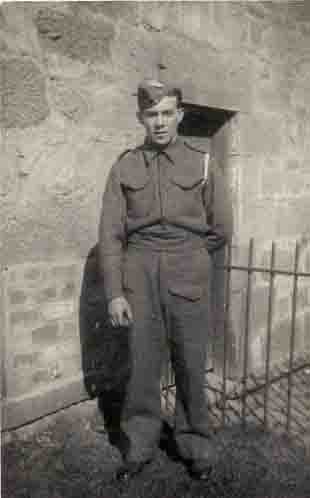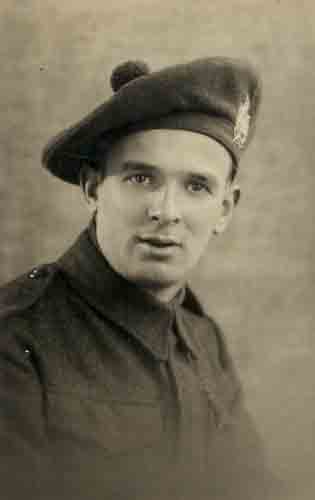 Archie Taylor and Hugh were in the family album Duncan and Isabella Kennedy. I think they are relations? I do not know what reigiment etc, can any one help?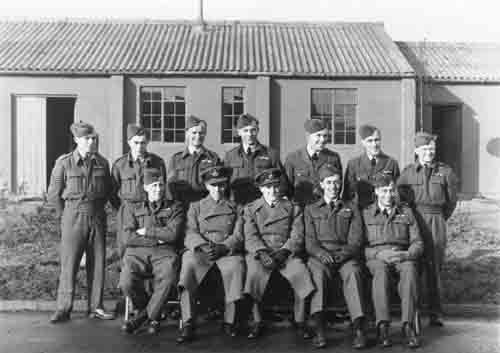 A PLETHORA OF PILOTS
My friend, P/O Theo ("Tony") L. Simpson, seated second from right, failed to return on 20 October 1943.
Having trained in Rhodesia, (Induna and Kumalo) he progressed to the following Stations.
Oct 42 - Dec 42 14 A.F.U., Ossington
Dec 42 - Jan 43 18 O.T.U., Wymeswold
Jan 43 - Apr 43 Satellite, Castle Donington
Apr 43 - Jun 43 1662 C.U., Blyton
Jun 43 - Oct 43 100 Squadron, Grimsby
I should be extremely pleased to hear from anyone who can identify the site or any of the other personnel in the photograph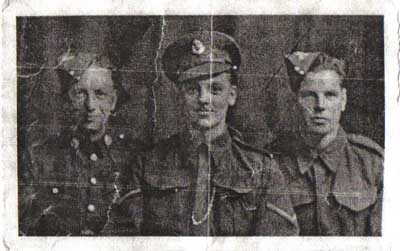 On the left is my Grandad Alfred Edward Lambert and in the middle my grandad Ronald Willam Ward. I know very little about either of them and if any one knows more I would love to hear from you. Thank you.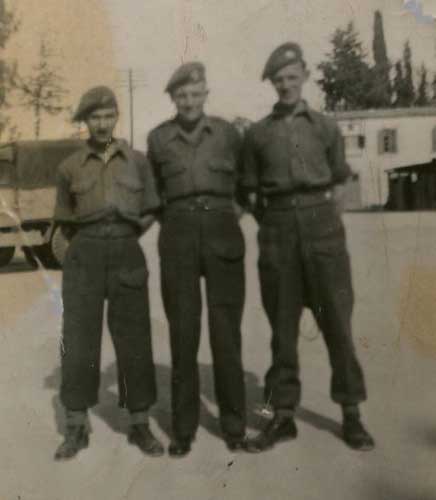 This photo is of my dad George Douglas, he is on the right with 2 of his friends. The photo was taken in Nicosia in Cyprus.

Andrew Douglas
I am researching my family tree and especially trying to find out which Squadron my Dad was in and who served with him. His name was Victor Habbick and he came from Glasgow. I have sent away for his service record, but it does not state which squadron. He was stationed in Mauripur and Karachi. The photos I am attaching are his.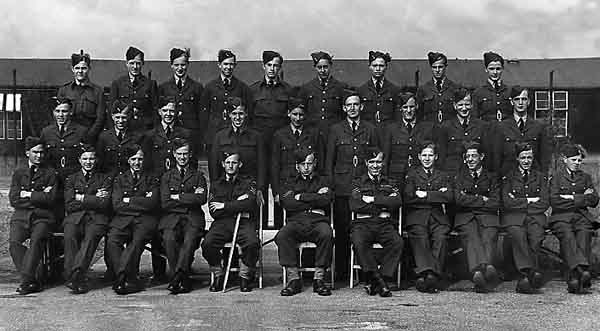 1. His Squadron - what and where I do not know. [My dad is 3rd from the left, middle row]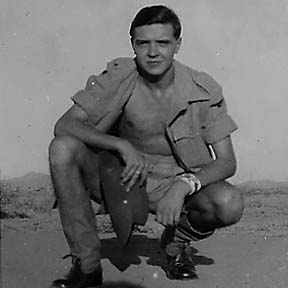 2. A picture of him in Karachi when he was stationed there during the war. One of his pals was called Tich because of his size and my dad's nickname was Jock, because he was Scottish.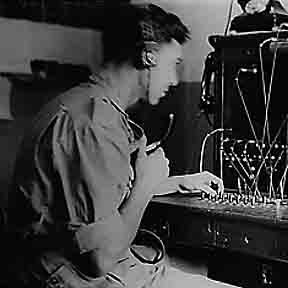 3. A picture of him at work as a Wireless Operator.


Unfortunately my Dad died when I was very young so I have no one else to ask as he was not married to my mother during the time he was in the RAF. I am just at a loss as to where I should go from here. If you recognise my Dad please get in touch.

Thanks.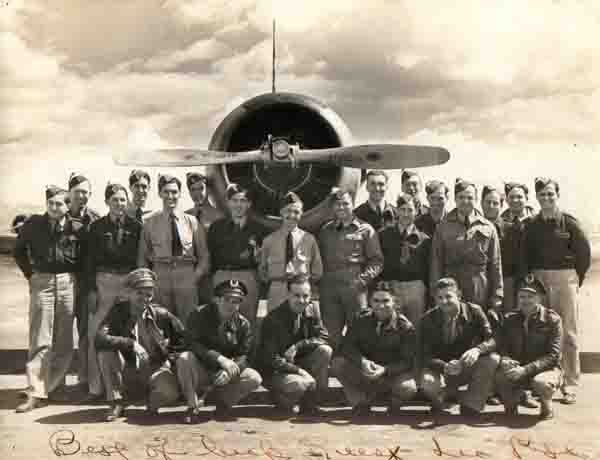 Taken at Falcon Field Az. Front Row from Left to Right:- Instructor Hanson (Hoppy or Happy) Instructor Robart (Dinky) Flight Commander Ward (Dusty) Miller Instructor Paul Robart Instructor Leo Kyle (He has signed the front of the photo to) Instructor Dick Grooms
Standing from Left to Right are:- Joe Millington, Alan Wardle, Jeff Webber, Jim Peat, Nick Nicholas, Bob Moorsom, Paddy Teegan, Jock (Wm) Yorston, Ray or Roy Spivey,Don Willingham, Eric Sykes, Geo (I presume George) Smith, Peter Curtis Rees, Fred Picknell, Ken Rouse, Jerry Turley and Charlie Smith.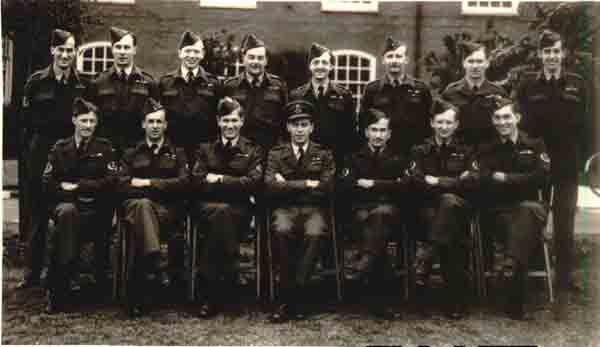 The Second was taken at South Cerney on 11th April 1949. Possibly No3 Refresher Course. No 2 FTS They are Front Row L to R: Pete Devaney, Pete Fossett, Bob Spruth, Miles?, Denys Foard, Sandy Mutch, Al Newall.
Stood L to R: Peter Rees, Doug Dibb, Bill Olson, Pete Strugnell, (Mitch) Mitchell, George Bell, Ray?, Jim Torry.
I would relish any information about Peter and his colleagues.
Many Thanks Dave Rees
This photo of my Grandfather John Walmsley was taken when he was serving in Beilefield, Germany in 1945. My Grandfather was fortunate enough to live through the war and marry his dearly loved wife, Mary Mills.
Charles Appleby (on left) with RAF Maintenance Crew, Burma
Charles Appleby in Bombay, India
Two photographs of my, Dad Charles Appleby who came from Thornaby-on-Tees, North Yorkshire. The photos were taken while he was in the RAF serving in India and Burma in 1942/43. He was awarded the Burma Star. Earlier in 1940/41 he also served at RAF Biggin Hill as one of the Maintenance Crew repairing Fighter aircraft.
Colin Appleby
This photograph shows a First Aid Party (FAP) of the Civil defence. The registration number of the car visible tells us that the scene is possibly in the London area as YT was issued by The London County Council. The seven men and one woman team all wear steel helmets marked FAP, have hand lamps attached to their belts and are equipped with Gas Masks and other accessories. The man second from the right displays medal ribbons and is probably a Great War Veteran. Oval badges can be seen worn below the left shoulders and these are probably Civil Defence Badges. The woman to left in the background wears what appears to be a black armband suggesting that a close relative has been killed in the war.
Stuart Brown
Here is a photo of my Dad (Les Goff) with his D troop of the 18th battery, 2nd anti tank. Taken outside the Tollgate Inn near Hirstmonceux, Sussex in late 1943 before they left for France the following year.
This was taken in May 45,at Goch in Germany. My Father sits on the the Far right wing looking at the photo as was known as Junior or F/O Sid Russell Smith. I am doing research on this squadron and would like to hear from anyone with any information.
This is my Dad, James y. Belasco Jr he served in the Pacific and specifically Okinawa in April of'45. He was originally from San Diego Ca. He passed away in 1978, I'd love to here from anyone who knew him.
I'm not too sure about this photo, possibly the 84th Batalion. My Dad, James Y Belasco Jr., is in the 3rd row down from the top, 3rd person in from the left. Do you know any thing about any of the men in this photo or what the flag represents?
I have been insearch of old service friends of my father Cliffy Brooks and came across this photo:

Cliffy from Attleborough Norfolk served from 1941 at Polebrook, Snaith, Ridgewell 1st Bomb wing, Stradishall, Lindholme, Lundford Magna, ACSEA Base Singapore 1946. He sadly died in 1982.

I would like to speak with anyone who knew my dad:
The original copy of these cartoons was picked up by my father when he served in the REME at Ripon, North Yorks, in 1944/45. After extensive research I do not know who drew them or if there are other copies around, but they show that humour survives even in wartime.
Richard Gray
Update
My father, James (Jimmy) Cartwright from Ainsworth, Lancashire, was at Ripon during the war as a driver. I remember sheafs of drawings and cartoons he sent to my mother from Ripon. My father was an excellent artist and could well have done the drawings. He did similar work. Sheila Ann Cartwright, Gosforth, Cumbria
Wellington Bomber Crew 148th Sqdn R.A.F. Middle East Command. Missing January 19th 1942. From a framed photograph.
Sgt. I.T. James ; P.O. W.J. Carroll ; S/Ldr M.E.Abbot ; Sgt. T.H. McGrath ; P.O. H.R. Merry ; Sgt. J.A. Sellars
Stuart Brown
Ground Staff of 202 Squadron at Castle Archdale, N.Ireland 1945
George Smith
Robert Cojeen (my Grandfather) was born in Douglas on the Isle of Man on the 4th July 1914, the son of Allan and Katie Cojeen. He was a plumber by trade and remained in this profession until he joined the Army eighteen months previous to Arnhem, and the 1st Border a year later. Posted to No.12 Platoon of B Company, he had the nickname of "Dad" because at the age of 30 he was considerably older than many of his peers, and smoking a pipe didn't help matters.
Robert Cojeen with army mates he is the one on the left at the back with a pipe in his mouth
He survived the war at went home to his wife Essie and two daughters Elaine and Sylvia in Onchan, Isle of Man. He died in 1982.
This photo of 168 MU was taken in July 1946. Doug STOREY (marked X) Front row from left, VANDERWOLFE and HIGGINS. Far right standing, STALLARD.
These are the only names I can remember. Any Ex 168 guys out there, that can recall further names please contact Doug by e-mail. (Link below)
August 3rd 1940 parading to church service at Radcliffe on Trent Nottingham.

The group photograph taken at the front of Holme Pierrepont Hall nr. Radcliffe on Trent - the unit was billeted here.

You will note that this is marked G Coy 10th Battalion. On 21 June 1940 a number of us (young volunteers) attested at the Derby Road drill hall in Nottingham as we were recruited into the 10th HD (home defence) Battalion later changed to 70th YS Battalion. The 10th served during the war as Home Guard in Nottinghamshire and I can only assume that it was convenient at the time to enrol us into an existing unit.

Arthur Beniston
This is a photo of two friends and myself. The aircraft is a rocket firing Typhoon with 184 sqadron.
Ron Baker
The wartime fire fighters of Chelmsford National Fire Service taken in 1942.
John Blackwood
It was taken in 1945 at Port Dixon Malaya. We had sailed from Chittagon as part of operation Zipper but were diverted when the atom bomb was dropped. We first stopped at Port Swettenham but moved to Port Dixon a few days later. I am sixth from the left. Look a lot different nowadays. Perhaps someone will see the photo and bring back memories for them.

Wally Reeve







The Wartime Memories Project is a non profit organisation.

This website is run out of our own pockets and from donations made by visitors. The popularity of the site means that it is far exceeding available resources.

If you are enjoying the site, please consider making a donation, however small to help with the costs of keeping the site running.


Or if you would like to send a cheque please email us for the postal address..







Website © Copyright MM-MMIXI
- All Rights Reserved