If you enjoy this site
please consider making a donation.

Home
Add Your Story

Events

Features



Airfields of WW2

Allied Forces

Axis Forces

Home Front

Prisoner of War

Secrets of WWII

Ships of WWII

Women at War

Those Who Served

Day-by-Day

The Great War

Submissions



How to add Memories

Add Your Memories

Can you Answer?

Printable Form

Schools



School Study Center

Children's Bookshop

FAQ's



Your Family History

Volunteering

Visit where They Served

Contact us

News

Bookshop

About

Links
World War 2 Two II WW2 WWII
Information.
Evacuation of Children from Britain's major cities began at the out break of the Second World War. Most were sent to the countryside in the hope that they would be safe from the expected bombs and gas attacks. The evacuation was arranged via the schools and whole classes, even whole schools were evacuated together.
Some children were sent overseas. The Children's Overseas Reception Board evacuated 2 664 children, 1 532 to Canada, 576 to Australia, 353 to South Africa and 203 to New Zealand and it is believed that another 11,000 children went by private arrangement, over 6 000 to Canada and the remainder to the United States. Some lives were lost when ships were sunk in the atlantic.
I was evacuated to Devon from Battersea, London at the age of 3.1/2 years. I was accompanied by my elder sister, we were billeted in Crediton. It was a memory I try to forget. Then at 4 years old Iwas billeted in Meldon on Dartmoor, this time with out my sister. But it was a much happier situation. I then had to be moved to the market town of Okehampton as I was 5 years and would start at the primary school. My sister had by this time returned to the family home in London. I had 3 brothers also evacuated in the same area, but I did not meet them until I returned to London in 1947. My time as an evacuee was, apart from the initial expereince, safe happy and sunny. I loved my aunty and uncle and kept in touch with them . Sadly my uncle died the year I was dragged away to live with my "family' again. Although I have lived in Australia for over 30 years I would visit Aunty when ever I returned to the U K. Even though I was one of the lucky evacuees, I do believe the experience has had a negative affect on our lives. A fact that no government seems to want to recognise.
Suzanne Phillips
I was CORB child No 2284, I was evacuated from Southsea in August 1940, I went by train to Liverpool and Joined the SS Llanstephan Castle which sailed on the evening of 24 August 1940 bound for South Africa. I was fortunate to catch this ship, as although this was my supposed destination, due to a false air raid in Portsmouth, it must have been on the 20th or 21st of August I missed the train and had to wait for the next one which had the children bound for Canada. My Mother was told that if I arrived in Liverpool before the ship (Llanstephan Castle) sailed I would join that, if not I would join the ship (SS Volendam) going to Canada, she was not told the names of the ships. When I arrived in Liverpool I was taken by car direct to the docks and hurried up the gangway very shortly before it was removed as we sailed, literally 15 minutes after I boarded. The SS Volendam was in fact torpedoed, luckily there was no loss of life amongst the children, although some of them later joined the SS City of Benares which was sunk with the loss of about 90 evacuees. My Mother, as I found out years later had no knowledge as to whether I had caught the South African bound ship or not, it was not until many weeks later that she received the obligatory letter which we all had to send on arrival at the destination, that she knew where I was.
I went firstly to a holding centre at the Cape Jewish orphanage where I stayed for about 6 weeks, I then went with a batch of children and an escort by train to Johannesburg. I do not recollect clearly how we were chosen, but I was selected and went with a couple who had obviously been vetted by the reception committee which was led by a lovely lady called Mrs Meyer. The house where I stayed was very nice and it was on the edge of the town, I was treated well and started to go to the local school. I do remember very clearly going for a walk in the local countryside and finding a bullet, which I think must have been something like a .303. I took this back 'home' and went into the couples shed, there I put the bullet in the vice and with a hammer and a nail I detonated it. There was an almighty bang, I was completely disorientated, I could neither hear nor see for quite some length of time, eventually my senses returned, I found that the window of the shed had blown out, the head of the bullet had gone right through the toe of my shoe and apparently passed between my big toe and the next, only slightly burning me, the case had flown out of the vice and struck me under the right eye, which was already swelling and completely shut. Nobody had heard the bang, so I went to my bedroom and got in bed. About 2 hours later the lady of the house called me for dinner, when I said that I was not hungry she guessed something was wrong, as a 10 year old growing lad was always hungry. When she came into my bedroom and pulled back the eiderdown, she screamed and rushed of to call her husband, after getting the doctor and ascertaining that there was no life threatening damage, I was well and truly in the dog house. Mrs Meyer was summoned and I was moved to another house within a few days. This only lasted a few weeks and again I was shifted. Altogether I was in 4 houses until Mrs Meyer herself took charge of me.
I loved her home, her husband Mr Theo Meyer and their son Nigel were all very nice to me, I remember the study had bookshelves lined with National Geographic magazines, which I read for hours. However due to their social and work schedules I was put into boarding school. Firstly into St Georges Home for Children, then Jeppe High School and finally Houghton College. It was whilst I was at St Georges that I was in a scout group and we were camping somewhere up north of Pretoria, each tent had 3 boys, it was about three am when the back of the tent was ripped open and a male lion,s head appeared in the gap, I was the nearest and my screams immediately woke the other 2 lads and we fled under the opposite side of the tent, the screams obviously were sufficient to scare the lion, wake up the rest of the camp, but in the mean-time the three of us had rushed up the nearest tree. By this time everybody was wide awake and wondering what had occurred, we gabbled on about the lion, it was only when the tracker studied the ground behind the tent that they believed us, it was a very big lion, to which I could not have agreed more. In the intervening period we realised that the tree that we had all shinned up was a tree known as a 'wait a bit' (Vag un bitje) tree in South Africa owing to the fact that it had nearly 3" thorns, none of us had felt a thing on the way up, but we were unable to climb down. It took ages waiting for the dawn, when we could gingerly make our way down, breaking of thorns en-route, with assistance from those below. To see a lion had been one of my dreams when I had opted to go to S. Africa in the first place, I did not envisage seeing one at such close quarters.
Altogether I spent from September 1940 until September 1945 in S/A, when I returned on the SS Mauritania. Within 3 months I had joined the Royal Navy. One very puzzling thing was that I had obviously replied to a letter from my Mother, where she must have asked what I wanted to do when I grew up, I had replied that I wanted to be an Electrical Engineer in a Submarine. I joined the RN in January 1946 at HMS GANGES as a boy seaman, a few years later I went into Submarine service having changed to the electrical branch, in January 1963 I was commissioned, it was then that my Mother sent me my letter, and yes, I was now an Electrical Engineer in a S/M, I had no knowledge of ever having written it! All these memories keep popping up.
Mike Draper
I was in Egypt when war broke out in 1939 and was evacuated to Palestine and then on to South Africa, Durban. I attended Addington School and we lived at three hotels, The Bon Accord, The Parade Court and the Adams. I would like to hear from others who went to Addington (I have a school photo showing about 150 of us) or who lived in the same hotels. We eventually came home on the Empress of Scotland in early 1944. John Weeks
On the very first Sunday of the war being announced I was evacuated to North Wales from Liverpool, I was 10 years old, my sister who was 8 and my brother 6 accompanied me. None of us realised that this was a serious event, we thought of it as an adventure, being taken on a trip from which we would shortly return home. I had never been away from home before, the furthest was New Brighton so I was told to look after my younger siblings as we got on the train and departed from Lime Street Station. On arrival in Bangor, N.Wales we were taken in groups around the city to the houses, I felt as if I was for sale but nobody seemed to want to buy me. My sister was soon placed with a school teacher who was very kind to her, but my brother and I were the very last to be housed out of our group. The first thing that happened to us was we were taken straight into the back garden and our heads were shaved and our clothes were burned - as our foster mother said 'just in case'! We were given new clothes from the Mayors Fund. The couple that took us in had no children of their own, their house was clean and neat, but we were kept short of food. We could smell bacon being cooked in the morning for our foster father, but my brother and I were given some bacon dripping with sauce in it and a slice of bread. We never saw sweets at all except when a kind lady assistant in Woolworths sneaked a sweet to us when we were trying to keep warm in the store while doing the shopping for our foster parents. A truck was made for us to do the shopping and in the winter it was converted into a sledge - so we could still do the shopping. Chapel was three times on a Sunday, then straight to bed - no supper. Every night, winter and summer it was bedtime at 7 o'clock. My older brother who worked on the docks in Liverpool gave me a harmonica as a going away present, but when my foster mother saw it she confiscated it until after the war.. Many children from Liverpool were unhappy and tried to run away by getting onto the railway line and following it to Aber, then to Llanfairfechan, hoping to reach Liverpool, only to be brought back by the police the same evening and receiving a thrashing at school the day after.
I enjoyed the 'digging for victory' at school, but always ended up with blisters on my hands from using the spade, not ever having done any gardening before. Three and a half years later we left Bangor, but we never returned to Liverpool as our mother had been bombed out of her home twice, so she was re-housed to Nelson in Lancashire. Our father was a merchant seaman all his life, serving in two world wars and peacetime service. I had two sisters whom I had never met before who were born during the years I was away from home. Since I retired I have written a book about my evacuee years, it is called 'WELSH SCOUSE' and has been so popular with young and old alike I have had three re-prints.
My friend and I were probably on the last convoy to carry children across the Atlantic. We sailed on 24th September from Liverpool, a week after the 'City of Benares' was torpedoed carrying 90 children, only 13 of whom were saved. My mother, not knowing the name of our ship and seeing the headlines, assumed it was us, until she realised that the news had not been released immediately. But the U-boat was still at large, and we dropped a depth charge, making the ship shudder, a few days out. We were never told exactly why, or whether there was any result.
Our ship was an old Cunarder, RMS Scythia, camouflaged in black and ochre and sporting a cannon at the stern and a small anti-aircraft gun on the bridge. We went on board on 21st September, in time for several air raids on Liverpool, but did not sail until 24th September, by which time the convoy had gathered, including our sister ship the 'Samaria', and one of the Canadian Pacific Empress liners. We were escorted by a couple of small Naval vessels for a couple of days and then split up to go as fast as we could. Both we and the 'Samaria' got to New York on 3rd October. It was astonishing to see the tops of the skyscrapers pointing out of the mist in the very early morning.
We were not allowed to take our clothes off at any time, so we slept in all-in-one ski-suits, then quite fashionable as 'siren suits'. There was boat drill every day, and we carried Mae West lifejackets around at all times. Otherwise the voyage, especially the food, was luxurious by our not very high standards. We spent a lot of time in the small gym, which had a mechanical horse and camel, riding them and practising boxing.
I came back on the 'Mauretania', then a troopship, in May '44, just in time for the doodlebugs. You were not allowed home until you were 16 and even then it was difficult to get a passage. We slept in narrow bunks in the troop hospital, which had been the cafeteria on the top deck; every morning about 6.30 am. the steward would come in and open the whole folding side to the elements. That was not a luxury trip, but it was generally good weather and we were coming home.
Brigid Wells
Does anyone remember being evacuated from Paddington Station? I was and I was two years old at the time. chris j
I remember as a evacuee getting on the train at Folkestone Cental Railway Station on the 3rd June 1940. Mothers stood watching as their children set off wondering who was going to care for them and how well they were going to be kept. Some never returned and yet some went into Foster Homes. I was evacuated on a farm in Llanishen where we was made to work like slaves. The farmer was so short handed. So that is why we was made to work. We were even asked to help to milk the cows. Milking in those days was all done by hand. We even rounded up the Cows. I was made to bath in a fish pond with water up to our waist. The farmer cut our hair, we were made to look like skinheads.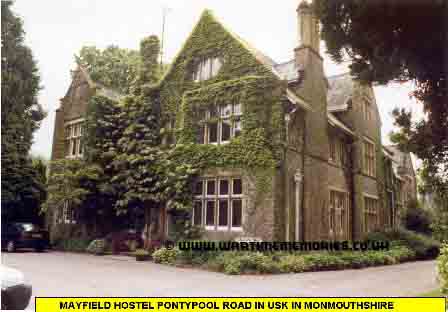 Then in 1943 I moved onto the Mayfield Hostel on the Pontypool Road in Usk in Monmouthshire. It has now been taken over by the Cambrian Oil Company, directed by Mr Chris Hayes. I have visited it twice since and the year before last Mr Hayes took me round the building. I was rather impressed.
Far Side of the World (and back again!)

The war had been going for nearly a year when my parents received the news that my sister Joyce (aged 12) and I (aged 10) had been selected with other children from Bristol to be evacuated to New Zealand through the CORB Scheme.

I was not aware at the time that we had been chosen from "deprived" families. I knew that we were not rich but we did have our own shoes! Some official help was given in outfitting the pair of us to the required standard and for the first time in my life I had all new clothes, instead of second-hand, and I had a real toothbrush with a small tin of toothpaste.

For security reasons, our parents were given strict instructions not to tell anyone we were leaving. So, apart from everyone at school and all our relatives, nobody knew! There were hurried goodbyes to members of the family and I raised the princely sum of twelve shillings and sixpence to take with me. For someone used to two pence a week pocket money this was a small fortune.

I was not sad to leave. Home was a tiny terraced house with a small backyard and the remains of our neighbour's house across the road staring at us through our cracked front windows. I shared a bed with the lodger and felt hard done by most of the time. We lived near a crossroads and every night the anti-aircraft gun arrived and disturbed us more that the Germans ever could as Mum, my sister and I tried to sleep under the stairs. Dad and the lodger curled up under the table during prolonged night raids.

At school we spent a great deal of our time in the damp, smelly shelters under the school playground and our education was beginning to be seriously interrupted on a daily basis. I was, however, up to date with the "Sea Vacs" serial in my weekly comic so I knew exactly what to expect. There would be fun and games and I would be the hero who sighted the u-boat periscope and saved the convoy!

We nearly did not get away. There was a long air raid that morning and Dad got hold of two air raid wardens to escort us all to Templemeads Station on foot as trams stopped running during the alert. Access to the station from our direction was blocked because of unexploded bombs and we had to take an alternative route, arriving with minutes to spare and just enough time to register and get our little labels. Then time to say goodbye. We were not a demonstrative family so the goodbyes were brief. Joyce and I joined the others on the train and I was too excited to even look back as the train steamed out of the station.

We arrived at Liverpool and stayed for a few days at what appeared to be a large school. We then embarked on RMS "Rangitata" one evening and overnight slipped out of harbour. It was 28 August 1940. The next morning we awoke to a steward with a cup of tea and a biscuit and the throb of giant engines under our feet. A new, strange and exciting world!

Outside of the ship we were surrounded by ships stretching in all directions. We were centre of Convoy OB 205 bound Liverpool to Halifax. To our right, not far away, was the Dutch liner "Volendam" carrying evacuees to Canada, children we had been playing with only the day before. A lone destroyer patrolled between the columns of ships, causing great excitement each time it passed.

Instead of bread and marge in the mornings I now had a fried breakfast with bread rolls (never heard of them before). There was mid-morning and mid-afternoon tea. Instead of dinner in the middle of the day we had "lunch". In the evenings I could tuck into soup followed by what seemed to be a Sunday dinner and pudding - every day. What luxury! Luckily, our table steward was able to show me how to navigate through all the knives and forks.

The downside for me was that we were in the clutches of Miss Dromgool, the head escort. She was a strict disciplinarian and, looking back, I suspect a number of us were in need of a little discipline! Our batch escort was Kyrsty Page, a wonderful, caring lady who kept us clean and tidy and looked to all our wants and welfare. Cuddles were never known in my home, but Kyrsty was always willing to cuddle away any perceived problems or worries. I was to know her for many years and, like all those who were privileged to know her, loved her dearly.

Like many escorts, she was left with precious little appreciation from a government which found it difficult to thank her, and those like her, on our behalf. Some escorts actually lost life and limb as a reward for their efforts. Were she here today, she would no doubt say that the life long love and devotion of "her children" was thanks enough.

For the first days, many children were quite sick. The sea was dark and forbidding and the fun and games of the "Sea Vacs" were yet to materialise. The more adventurous of us began finding our way around with a view to future fun and enjoyment although Miss D had promised us some schooling when things had settled down.

Unknown to us, however, a U-boat lurked ahead of us and the convoy was attacked late in the evening of 30 August. I was suddenly woken to thumping noises and the sound of the alarm bells. We put on our lifebelts and stumbled our way to the boat stations on the first class deck, on the way sighting the "Volendam", brightly lit and apparently on fire, falling astern of us. Someone said that a lookout on the front of the ship had actually seen the torpedo passing just a yard ahead of the "Rangitata" before it hit the unfortunate ship. We heard that the convoy had been ordered to scatter and felt the engines below vibrating as the ship picked up speed. It was probably a terrifying night for the older children and adults but I found it an exciting experience. We lay on the deck just outside the lounge, wrapped in blankets. There was chatter, chaos, hot Bovril and biscuits to see us through until morning. Despite being summer, it was quite chilly and we were eventually taken under cover and fell asleep on the soft luxurious carpet of the first class lounge.

It was some time before we were allowed to take our lifebelts off and return to our own accommodation. Then day followed day with mornings devoted to simple lessons and afternoons full of wonder at the size of the ocean and the wide open skies. The weather warmed and life was great. My sea experience until that time had been a day at Weston-Super-Mare or a day trip to London and a return ticket on the Woolwich ferry. Unbelievably deep blue sea and bright blue skies became an enduring memory.

The fate of those aboard "Volendam" and the more melancholy circumstances surrounding the fate of those aboard "City of Benares" was kept from us for a long, long time.

For us, however, the bright sunny days passed rapidly as we proceeded direct to Panama. On arrival, we evacuees were met by many of the local people who took us out for the day, showed us the sights of the Canal Zone and completely spoilt us. It was a day to remember. More sunshine, lemonade and all the good things you could eat. The wonderful hospitality and the thrill of passing through the canal added more to our abiding memories.

The Pacific crossing was some three weeks of more glorious sunshine, blue seas, swimming in the little pool the crew made up and more fun and games. I really felt I was a true "Sea Vac" even if I had not seen the submarine periscope and saved the convoy.

Eventually, we arrived at our destination and secured alongside at Wellington. My sister and I were in a party of 24 children who were sent off to Auckland. We travelled overnight by train, passing real volcanoes and arrived at our destination early the next morning. We stayed at a children's home for a few days and were then parcelled out to foster parents. It seemed that no one wanted a pair so Joyce and I were split up. I went to a very rich family in Remuera and Joyce to a working class family on the other side of the city. We met once a fortnight for a couple of hours' play.

I was overwhelmed by my new family. They had a large house in what seemed to be a park to me. They had two cars and their back garden had its own lagoon where all the boys had their own small boats, sailing dinghies, canoes etc. They had a large property to the north of the city with its own private beach where we spent holidays. I knew I was not in Bristol, finding myself in an environment where boys did not play out in the street and where strange things like doing dishes, cleaning your own room and helping cut the lawns were part of every day life.

I had hard lessons to learn. My foster mother was sweet and kind and looked after me. My foster father was quite strict and supervised me having cold showers every morning and scrutinised every piece of work I had to do. They had one son, a year older than me. I was bullied a little and, looking back, I can understand the culture clash of a back-street boy from Bristol descending on a refined and respected local family.

My table manners left a lot to be desired and it was hard being taught, quite severely at times, how to eat food and behave properly at the table.

After nearly two years, there was some sort of illness in the family and I had to "move on". I found myself with an elderly couple in the middleclass area of Parnell. It was pleasant enough here and I was allowed to have outside friends. My new foster mother felt that I was too young to clean myself (at 12!) and spent an awful lot of time giving me a daily bath. At least I had no daily chores to do.

This situation only lasted a few months. They had a son in the RNZAF and he was invalided out after an accident. There was no room for me to continue staying so I was on the move again.

There was some difficulty finding me another home at this time. The novelty of poor English children had obviously worn off. A place was eventually found for me with relatives of the family my sister stayed with. My new foster parents were an 86 year old Maori princess and her unmarried daughter who had recently had a stroke!

Here again, I became a bit of a drudge doing gardening, grass cutting and generally finding life very hard. No chores, no pocket money! Nevertheless, I was not far from my sister. After a while, I settled down and began to enjoy myself. I made many friends, including my first girl friend. I had a short period at Grammar School and won a scholarship to the School of Art.

I joined the Boy scouts, where I managed to become acting Troop Leader before returning home. I took up a paper round which gave me good pocket money and a certain amount of independence. As I learned to work hard, I earned the respect of "Grandma" as I used to call her and she was a fund of interesting Maori history and customs. I learnt much from her.

My little world came to an end when Germany surrendered. CORB, for some reason, decided that we evacuees should now return to UK. So it was, Joyce and I found ourselves back at Wellington embarking on SS "Themistocles" which sailed for UK in August 1945. The ship was five days out when the Japanese surrendered. To this day, I cannot understand why CORB risked sending us across the wide Pacific whilst the war with Japan was still raging.

There were not many passengers on board. Half of them were returning evacuees, nineteen boys and twenty-one girls. We spent over seven weeks on the voyage passing through the Panama again and spending a week at Jamaica. What a trip that was! Blue seas, sunshine and all of us between 15 and 20. The ship remained blacked out until we passed through the canal, although we were allowed on deck after dark. I do not think my comic would have had any episodes of this trip in their "Sea Vacs" adventures!

All good things come to an end. We eventually arrived at a grey, subdued Liverpool, stayed the night at a horrendous house where all there was to eat was dark bread and margarine. "There's been a war, you know!" The following day, we took a train through the most dull, overcrowded and dismal countryside I could ever remember and finally met my mother and the lodger at Templemeads Station. Dad was still somewhere overseas. Over five years had passed and we did not know each other. Mum had moved to Bath so we still had a bit further to travel, wondering at the immense bomb damage everywhere.

Late that night, Joyce and I went to bed and the world was never the same.

I was not allowed to continue with my arts studies and found it hard to settle down. After a year or so I ran off and joined the Royal Marines where I found a home for over 23 years.

My parents and I tried hard to understand each other but we remained virtual strangers until they both died. Sadly, I could never appreciate how they felt and whilst the great adventure may have made a different, better person of me it did nothing towards the deep personal relationship that should have existed between me and my very close kin.

Even so, in retrospect, I would not have missed the experience

Joyce, very wisely, returned to New Zealand many years ago where she still lives happily.

Jim Porter
I lived in Lewisham London and was evacuated in 1939 to Wye in Kent and was in the church of st Gregory and st Martin in Wye to hear the announcement of the start of the war on the radio, I was billeted in a Mansion with about 5 children ,the house was owned by Captain Horsley,(I have seen his grave behind the church) the mansion is now a school. On the day that war was declared the sirens went and we all rushed home to a gas - proof room. During the 'Phoney War' I went back to London as it was quiet, but before the Blitz I was again evacuated to Dorset, we all sat in a school room in Buckhorn Weston and we waited to be picked. I ended up with Mr and Mrs Bowden of Brook Cottage, Buckhorn Weston and stayed with them until I was 14 years old ,washing water was obtained from the stream outside and I had to go up to the farm and fill a milk churn with drinking water from a tap. I have revisited the cottage in the last few years ,it is now a holiday cottage ,I was allowed to go in and see my old bedroom, another child Sybil Chapman was also billeted there she later married a farmer having been in the land army.

I was brought back from Dorset in time to be bombed out of 23 Leahurst Rd, Lewisham by a doodlebug and had to start work at 14 and worked at Chiltonian Biscuit factory, I was there when the Sandhurst school was bombed killing so many children. I married Richard Gordon Ackrill after the war He served in the East Surrey Regiment at the end of the war after working at J Sainsbury in Catford and Fire watching he had 4 brothers all of whom served Throughout the war and all of whom survived. They were Jim a Sergeant - major on Crocodile flamethrower tanks, Peter a bren-gunner who landed in Normandy, Ted who fought through Burma against the Japanese and Jack who again was in the far-east.

Constance Helen Ackrill (Nee Jessup)
My mother, Joan Piper is trying to locate anybody who was evacuated to the Trecarol Hotel, St Ives, Cornwall between 1940-1945.

Audrey Lynne, Daphne Lynne, Joyce Frost, Dorothy Stevens are just a few names to remember.

Also anybody who was in the Gwenbehana's Dance Troupe who performed at the merchant navy weeks', military hospitals and hotels within the area.

If you are one of those people, a relative or know of the whereabouts of anybody who was evacuated to the hotel, please contact me.
My young sister and I were evacuated to Ipswich on the first of September 1939. I can't really remember the preparations but I do remember being on the train at Ilford Station and arriving in Ipswich. We were taken to a church hall I think and then were allowed to have some of the goodies out of the bag we had all been given (I remember there were custard cream biscuits and a tin of corned beef and I think some chocolate but what else I've forgotten although I do remember the brown paper carrier bag it was in!)

There were lots of people about and a lot of noise then this elderly lady said yes she would take me and my sister. We went to Felixstowe Road in a car (we weren't used to cars and were a bit afraid). The lady's name was Mrs Chipperfield and she had a husband, a daughter and a son. The daughter (Violet known as Auntie Vi to us) was staying with her at the time on holiday from Wirral in Cheshire where she lived with her husband. The son (Uncle Fred to us) lived a few doors away from Mr & Mrs Chipperfield with his wife Evelyn. Fred was a grocer and a part time Special Constable. He was quite chubby, has a big moustache and was great fun. Auntie Vi was beautiful and took great care of us whilst she was there. Aunty and Uncle Chips (as we called Mr & Mrs Chipperfield ) looked after us very well; quite differently from how we were used to. Strict but in a different way from how our parents were strict. The first night we slept well in a huge double bed with a feather mattress – we had a lovely bedroom too. Next morning we got up and had breakfast and then we stood at the gate watching the trolleybuses go by and feeling very miserable and grizzling a bit. We found it peculiar at first as we had constant attention, which we weren't used to coming from a big family, but soon settled down. No tantrums allowed there but no clips round the ear either. Food was regulated to times and amounts but very varied and nutritious even if rationing was on. Aunty Chips made cakes every week and we were allowed to choose one sort each ( she baked several – all large cakes to be sliced in portions ). We ate in the garden whenever possible. Uncle Chips used to take us on long walks by the River Orwell and told us about the birds and animals around and the flowers. We used to love it. Laura – my sister – was sent to school fairly quickly I believe but us older ones never went to a school until much later and I don't remember anything about it except that it was called Nacton Road School. We went to people's houses and were taught in front rooms for a while but it was a bit of a farce. If I remember rightly the schools for older children were overflowing. We were invited to the Junior school sometimes for events and we went there in the school breaks to help look after animals and things and we saw hen eggs hatch out and were astounded at such a feat I remember. Life went on, Mum and Dad visited a couple of times. It was a cold winter and our parents were instructed to send us warm clothing and wellies and we had knitted pixie hoods, never been so well dressed and no hand me downs! Christmas came and Auntie Vi came back and her husband (Uncle Jim) came for the actual holiday days. He brought us a large box of Terry's All Gold chocolates – what a treat – and we were allowed two each day and were allowed to give the others one each and no more. Auntie said normally we were to share things but as sweets were rare and we had never had such a treat before we were to be allowed to keep them for ourselves. We savoured those chocolates and, of course, they lasted a long time. We had lots of presents, not in the league of today's children at Christmas but many more than we were used to, so we had some on Christmas Day and some on Boxing Day.

We used to be taken to town sometimes. We walked with Uncle, and Auntie went on the trolleybus. Sometimes we came back on the trolleybus but sometimes we had to walk. It was quite a long way but we loved it. The grocery shop Uncle Fred worked in was a really olde worlde shop in the Buttermarket. They used to pat the butter into packs and everything was weighed up from large containers. We were fascinated by it all. And a couple of times we were taken to the pictures, queue up for an hour then front row ninepenny seats. We had to crane our necks upwards to see but it was lovely - Gracie Fields in Singing Sally and Sing As We Go. We never went to the pictures at home!

I realize now that they were not very well off but managed what money they had very well and we were included in treats.

In May we were told we were to be moved and had to write a postcard to tell parents, to be posted by the school just telling them we were moving but not where to. Aunty Chips telephoned our parents (from the call box across the road – few had their own telephone) and they said they would come and fetch us. It was a Friday and they picked us up on Saturday morning (we had to be ready because Dad had to get a taxi from the station and we went straight back). I remember the journey home – we didn't know whether we wanted to go back or not. Anyway the rest of those who weren't collected by parents were sent to Wales on the Saturday afternoon. On that Saturday night Ipswich had its first air raid so someone knew a thing or two. (We did have a warning siren go off on the day war was declared – third of September – and we had to don gas masks and sit under the table but it was a false alarm).

Really the evacuation as far as we were concerned was just a long holiday interspersed with lessons which weren't difficult to handle, and new friends and a completely different environment from that which we had been in before.

We kept in touch with Aunty and Uncle Chips and they came to our weddings although poor Uncle Chips went blind. They are all gone now but we shall never forget them.

I moved to Norfolk when I retired, in a country village, and I realize that the walks with Uncle Chips weren't wasted. Perhaps they were part of the reasons for me moving to the country from London!

Barbara Nicholls
I was born in Brussels, Belgium and luckily came to London with my mother in 1936 when I was not quite five years old and if that hadn't happened I wouldn't be here today to speak to you about being an evacuee in wartime England.

You know children in those days lived very different lives than those of today. We had no television, no video, no computers, no electronic games and the word teenager didn't exist. We were virtually little mini adults and I expect you would have found life very boring but the war came and life became far from boring. So believe it or not I found it exciting when I was told that I was going to be evacuated I wasn't even sure what it meant but I soon found out…

War was declared on September 3rd but two days earlier on September 1st my school was evacuated. I can remember arriving in Waterloo station with hundreds of other children. We wore our school uniform and we each were given a square box, which contained a frightening looking gas mask, a small canvas satchel containing rations, which were a tin of sardines, a packet of currants, and a tin of spam, which was a horrible luncheon meat. A label was tied onto our blazers with our name and the name of the school. I can't remember much of the train journey except we were all terribly excited, we didn't know where we were going only it was rumoured that it was the seaside. Well the rumour was right and the train drew into a place called Worthing.

Well, we were met at the station and we were taken straight away to our billets. I remember standing in a queue of children and people came out of houses and chose a child. I was very, very lucky in my first billet. Mr and Mrs Palmer lived in a beautiful modern house on the edge of the South Downs, they had no children of their own and made a great fuss of me. I remember entering this house and immediately the siren went frightening the life out of everybody. We put our gas masks on, and we looked ghastly and they suffocated us. Then I dropped the bag of currants and they went all over the floor and naturally I cried and cried. I don't know whether you have ever heard that wartime siren, but it was terrifying. Anyway on this occasion it was a false alarm.

I settled in very quickly as a seven year old to a very orderly life. The first period of the war was called the 'phoney war', the calm before the storm.

The Palmers were very cultivated people and loved music and art and the house was full of pictures and books. Mr and Mrs Palmer were very musical and played the violin and cello. They had musical evenings at home.

At the beginning of the war we were not really deprived of food that came soon enough. I remember a few years later being given a banana for the first time and I bit into the skin, can you imagine? So, food and clothes were rationed, we couldn't just go to the sweet shop and buy. We were rationed to 3 oz a week, which is about 350 grams. Clothes were also hard to come by and there was a phrase 'make do and mend' and that has stayed with me all my life, I still can't bear to waste anything and will wear clothes and shoes until they are worn out. By the way, my daughter, used to say I kept food until it turned into penicillin. Well, that was the effect of my wartime childhood. We all had blue ration books, which we had to take to the shops and as we bought something the coupons were cut out and then there was no more until the following week. I craved for sweets and as a substitute we would eat currants or buy a penny carrot. I always seemed to be hungry. Mr Palmer was a retired baker and on my birthday, which is Christmas Day, he had a wonderful birthday cake made for me and I remember it had "Happy Birthday Suzzanne" on it, spelt with two Z's and I thought that was wonderful. I was laden with presents, including a knitting bag with turquoise wool, and I learnt to knit when I was eight years old. As I said, I was lucky to be with these people, but after a year it wasn't considered safe for children to be at the seaside. Although we could never go on the beach, it was covered with barbed wife in case of invasion and the beach was planted with landmines. So, we were taken from Worthing, Hertford, not a million miles was from Potters Bar. In those days it was along way to travel.

My next billet was also amazing, but it did get much worse after that, I think my story is a bit like Black Beauty, if you've read that. Things getting progressively worse for the poor horse. Anyway, now I was billeted with a lady called Ms Reeds, who lived in a large house together with her maid Bertha. She was a maiden lady and had no idea how to look after children. Again, the lady loved books and her house was like a library, in fact, there was one, so I was in my element. We used to eat in great style and there was never a true expression, all style, and no substance. The food was served by Bertha offering us the food covered by a silver tureen. But underneath would be a measly scrap of meat, or a horrible sausage, with lots of potatoes. I used to help Bertha clean the silver after school, and then I would listen to children's hour on the radio, just for one hour, then I would read and read. Remember, no television, and there were no washing machines. Ms Reeds employed a washing woman to do that, and it was my job to take the bundles of washing down to her, and her son, Roy, would bring the washing back. I was around 9 then, and I think I was in love with Roy.

Of course, the war was going full-blast by then, the sirens would wail and we would have to go into these awful Anderson shelters in the garden. Cold and damp and horrible, sometimes we would have to sleep in them with itchy blankets and plenty of spiders. I was always being told 'Stop fidgeting Suzanne'.

I could go on and on about Ms Reeds but would you believe, in Hertford I was shunted into another six billets.

I'd like to tell you about one of the horrible houses I lived in. I was about 11 years old and I was taken to some people called Mr and Mrs Dance and there were three other people there, it was really like living in Victorian England. These people were florists and they taught us children to make Wreaths and Crosses, as their speciality as florists was funerals. It was very hard work and the wires hurt our fingers. That wasn't so bad, but a week after the funeral, it was my job, with another little girl, to go to the cemetery, collect the Wreaths and Crosses, and take them back to Mr and Mrs Dance. So we used to go with a little wheelbarrow, to the cemetery at around 6.30 in the morning to collect them. I think the authorities found out as I was sent to another billet - perhaps I should write a book!

The war lasted 6 years and took away my childhood. I was 14 when I returned home but that's another story.

Sue Korson
My mother who was evacuated to Cottesmore Rutland Oakham between 1940-43 is trying to trace school children evacuated with her

Thanks Beverley
I am trying to find a gentleman by the name of Arthur Flynn. He was evacuated during World War II from Tottenham, London to Cefn Cribbwr, Bridgend, South Wales. He was evacauted along with his sister, Jessie. Arthur was placed with my grandparents, Windsor and Eva Jenkins at 52 Cefn Road, Cefn Cribwr, Bridgend and stayed with them for the duration of the war. Mr Mother, Margaret Jenkins (now Jones) would like to know the whereabouts of Arthur and if anyone has any information I would be delighted to hear from you.
I was first evacuated 1938 during Munich crisis; from Brockley to Sidcup when I was four. Then 1939 to Totton Hampshire. In 1940 to a farm in Devon,then to Three bridges in Kent.In 1941 I went back again to a farm in Devon and the last move was from Brockley to Hillingdon in Middlesex as my father had then been discharged from the Army as being no longer fit for further service.The experience of being evacuated leaves permanent memories, mostly bad. In Totten I nearly died due to being left alone in an attic with untreated whooping cough.I was lucky in that my father had a weekend pass from the army and came down to visit me,when he saw the state I was in he telegrammed my mother to take me away. When in Devon the second time,my mother came down and whilst there,she contracted Typhoid fever. I still remember her beside me in her nightdress with her hair all coming out and onto the pillow, she was taken away by ambulance, I have tried to find out what then happened to me, my mind having blanked out some of the bad feelings, I believe I was taken to be cared for in a childrens home for a short while and then to my Grandmothers in New Cross.

I am now nearly 69 years old and still some of the bad memories return from time to time, it might be a picture, a radio programme, a sound; all sorts of things may suddenly recall recollections of experiences better forgotten. The only good memories for me are of watching the crows high up in the trees in Devon and of the frienly Owl that sat on the outside ledge of the attic window and to which I talked and asked,"are you my friend"?

John Hilliard.
If you were Evacuated as a child we would love to hear from you.

Please contact us:



Children who were Evacuated
J Baker (from Great Yarmouth to Bircotes) Read her story
Jean Baker (from Great Yarmouth to Bircotes)
Reggie Baker (from Great Yarmouth to Bircotes)
Brian Brakey (from Newcastle to Penrith) Read his story
Sybil Chapman (to Weston, Dorset)
Joan Cruickshank (from Glasgow to Troon)
Mike Draper. (from Southsea to South Africa Read his Story
Ronald Dutt. (from Folkestone to Llanishen) Read his story
Gordon Finn (to Newquay in Cornwall) Read his story
Arthur Flynn. (from Tottenham to Cefn Cribbwr South Wales.) Read his story
Jesse Flynn. (from Tottenham to Cefn Cribbwr South Wales.) Read her story
Joyce Frost (to Trecarol Hotel, St Ives, Cornwall)
John Hilliard. (from Brockley)Read his story
Constance Helen Jessup (from Lewisham to Weston, Dorset) Read her story
Maureen Kelly. (from Gateshead to Askwith)
Noel Kelly. (from Gateshead to Askwith) Read his story
Sue Korson. (from London to Worthing) Read her story
Audrey Lynne (to Trecarol Hotel, St Ives, Cornwall)
Daphne Lynne (to Trecarol Hotel, St Ives, Cornwall)
Fred McArdle (from Glasgow to Troon)
James Sinclair McLoughlin (From Liverpool to North Wales.) Read his Story
Barbara Nicholls (from London to Ipswich) Read her story
Laura Nichols (from London to Ipswich)
Joan Piper (to Trecarol Hotel, St Ives, Cornwall) Read her story
Chris Porteous (from Dulwich to Kendal) Read his story
Jim Porter (from Bristol to New Zealand) Read his story
Joyce Porter (from Bristol to New Zealand)
Suzanne Pudney (fron Battersea to Devon) Read her Story
John Roberts (from London to Burwash and Wales) Read his story
Joan Roberts (from London to Brighton and Wales) Read her story
Eileen Roberts (from London to Hailsham and Wales) Read her story
Leslie Roberts (from London to Hailsham and Wales) Read her story
Margaret Roberts (from London to Hailsham and Wales) Read her story
Dorothy Stevens (to Trecarol Hotel, St Ives, Cornwall)
Frank Warden (from Glasgow to Troon) Read his story
Brenda Ward (from London) Read her Story
Norman Warden (from Glasgow to Troon)
Pat Watson (to Kenilworth) Read her story
John Weeks. (Egypt to Palestine & Durban) Read his Story
Brigid Wells Read her Story
If you have any names to add to this list, or any recollections or photos of those listed, please get in touch.







Enjoying this site?

to help with the costs.






Website and ALL Material © Copyright MM-MMIXI
- All Rights Reserved