FIRE OVER SOUTHAMPTON

An Auxiliary Fireman's experiences and escapes during the Raids on Southampton.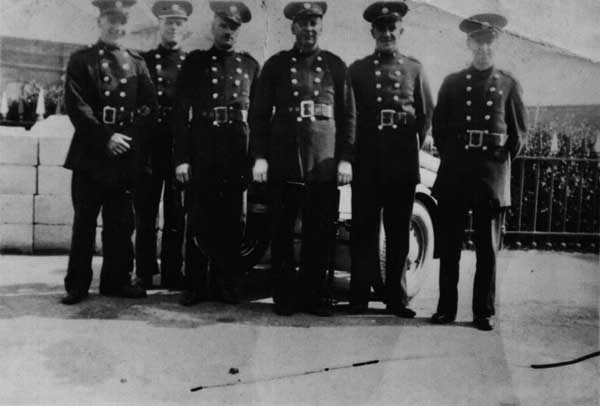 I was managing the Clarence Hotel, at Holy Rood on the High Street, when early in 1940, I received my Calling-up Papers. Deciding to join the A.F.S. I was detailed to C Station, a small school in New Road that had been converted into an Auxiliary Fire Station. There with other recruits we were drilled, lectured and took part in large-scale exercises until we became efficient firefighters. Our station was equipped with four Pumps and towing vehicles. On receipt of an Alert, we moved our Pumps to prearranged Action Stations.
With the fall of France and the Channel Islands, the Battle of Britain began. One day whilst on duty several planes came over flying low, we thought they were Spitfires, until they opened up with their cannon guns and proceeded to shoot down our Barrage Balloons.
My baptism of fire came when we were rushed into the Docks to deal with a fire in the Cold Store building. The Luftwaffe were flying out after bombing Cunliffe-Owens aircraft factory at Eastleigh, when a Bofors gun-crew on the roof of the Cold Store fired on one of the planes. The pilot taking umbrage circled round and dropped a bomb, knocking out the gun and crew and setting fire to the building. We arrived with a dozen more crews, set our pump up on the edge of the quay, lowering our suction hose. We started the pump, ran out a line of hose and got a jet to work. After some hours the fire was gradually brought under control. I was in the building, helping to dampen down the lift shafts, when finally we received the order 'Knock-off, make up and return to station'. Leaving what little there was to the Docks fire brigade, we had done a really good job, however what went wrong, I don't know, but we were called back again the next day. Great billows of smoke came issuing from the Cold store and in spite of all our efforts it continued to burn for the next three weeks. Thousands of cases of Butter, Margarine and Lard together with hundreds of carcasses of meat were lost, someone had blundered.
Daylight raids were frequent but the civilian population carried on with wonderful determination. September 15th, Sunday, we watched the vapour trails in the sky and paid silent tribute to our fighting pilots. That evening I came off duty at six p.m. and at seven, opened up the hotel bars for business, at 9.25 the sirens sounded, my wife and our two small children together with the barmaids, went to the shelter across the road. I asked the customers in the Lounge to leave and take shelter, keeping the Saloon and Public bars open. At 9.40 the anti-aircraft guns were in action, I happened to look in the direction of the Lounge in time to see the outer wall bulge and the brickwork came flying in. In a split second came the sound of the explosion, everything shook and there was the crash of collapsing brickwork. The dust was indescribable, in the bars it was almost impossible to see, however no one was hurt. It was fortunate that the Lounge was empty, as the entire rear of the premises was just a heap of rubble. Now that our home was gone, we moved into the Glasgow Hotel, Oxford Street as paying guests, what was left of the Clarence was shored up and sealed off. The Saloon and Public Bars cleaned up and put in order, and in two weeks we were back in business.
As the raids increased, all off duty firemen were now required to report back for duty when the warnings sounded. On the afternoon of the 26th Sept, I was off duty, the alarm went off and I jumped on my cycle and headed for the station. Cycling along, I was aware that I was the only person around and just above were several Messerschmitts with cannons blazing, I felt sure they were firing at me and I reached the Fire-station in record time. Two of the pumps were at action stations the remainder on standby. As I stood at the entrance to the Engine-room, two formations of Enemy bombers, I counted forty planes, flew past. When approximately half a mile away, they all released their bombs simultaneously. I watched as they fell and as they exploded the ground trembled. Heavy damage was caused over a large area, the Supermarine factory received several direct hits, the Gasworks virtually destroyed and burning fiercely.
Our pump moved in, as reinforcements were called in. We got to work from a large crater that was filled with water and soon had a jet playing on the blaze. We worked through the night and by daybreak had the fire well under control. Shortly after dawn, we were approached by two civilians who enquired if we had seen any military personnel around, we answered no and one of our chaps asked if it was important ---"Yes" they said there were some unexploded bombs to be dealt with, they hoped it wouldn't make any difference to us, as they pointed out where two of them were, we had been working between them all night. When our Sub-officer came round later, we asked if he knew we had been working between two UXBs his reply was 'Yes, but didn't say anything as I didn't want you to feel uncomfortable whilst you were working'. Shortly after we were told to 'Knock off, make up and return to station', about midday a loud explosion shook the town, a 1000lb delayed action bomb had exploded in the crater from which we had been working.
Days and nights followed with their quota of raids and alerts. Saturday Nov 23rd, I was due to go off duty at 6.00p.m. but as an alert was on, I stood by. At 6.15p.m. the sirens went, almost immediately the drone of many aircraft could be heard. Anti-aircraft searchlights swept the sky. Ack-Ack guns opened up as parachute flares were drifting down, casting a ghostly brilliance over the town, hundreds of incendiary bombs also falling. We were sent to deal with incendiaries in a building opposite Watts Park and the Civic Centre. Having completed our own task we left the building just as a load of incendiaries fell into the park, some were hung up in trees whilst others lay burning on the ground, making a vivid picture. H.E. bombs were screaming down and several large fires were in evidence as we returned to station, to be immediately sent to premises on fire in New Road. We got to work as stick after stick of bombs came whistling and screaming down. After a while it was apparent that we couldn't save the building and so employed our jet on the buildings on each side, in an attempt to stop the fire spreading. The building, suddenly collapsed with a roar, for a moment I thought it must have been hit by a bomb, this effectively put the fire out, leaving a smoking pile of bricks --- we stayed for a while longer playing our hose over the debris, until satisfied there wasn't any danger to the houses either side, we then 'made-up' and moved further up the road to assist another crew fighting a fire in the schools' clinic. H.E. bombs were descending incessantly and it was a welcome relief when the sirens sounded the 'All Clear'. The raid had been in progress for over four and a half hours -- we were left with literally hundreds of fires on our hands but help was moving in and later after being on duty for twenty hours, we were relieved.
During the next week we had a short respite with no major incidents, then on Saturday Nov 30th at 6.00p.m. I had just reported for night duty, there was an 'alert on' and soon the sirens were wailing. I said to my friend Percy Webb, "I think we are in for another 'Blitz' tonight", he answered "I think you're right Arthur, let's work together as we did last Saturday, it's not so bad then". As we were talking, parachute flares were again drifting down. We walked down the ramp to the basement, the door of which was situated under a reinforced ramp running from the Engine-room to the pavement. Percy went through into the basement whilst I stopped under the ramp. At that moment the first stick of H.E. came whistling down, I crouched on the ground and the next I knew, I was picked up and blown into the concrete wall of the ramp, my steel helmet flying off was immediately buried in the earth that was being thrown up. My head was rubbing against the rough concrete and blood came streaming down my face. As I was forced upwards the earth beneath me gradually enveloping me and debris from the collapsing building falling on top of me, I thought 'CHRIST HELP ME' I'm being buried alive what a way to die. However I was lucky, as the force of the explosion subsided, I found that I was only partially buried at the time and after struggling for a while and removing some large blocks of tarmac that had one of my arms pinned, I managed to release myself and found I was on pavement level, having come up a good seven feet. Percy, poor fellow, must have received the full blast of the bomb and was killed outright, along with three other fellows, although I didn't know that. Several incendiaries were burning on the opposite pavement. I crossed the road and kicked them into the gutter. Whilst thus occupied, I heard someone calling 'Help I can't see'. I returned to see one of our men floundering about amongst the debris that had fallen into the bomb crater. I called to him and as he turned towards the sound of my voice, I was able to grasp his hand and pull him out. The blast had caught him full in the face, blinding him. I cleared a space and got him to lie down, pillowing his head on his service respirator, as some A.R.P. men arrived they took over and an ambulance was sent for. I got under the fallen ramp and released another of our men who had become partially buried and while doing so, another bomb exploded across the road and blew me into the wall again.
Shortly after this the ambulance arrived, I had to admire the young woman driver, she was as cool as a cucumber, backing the ambulance amongst the debris and waiting while the injured and one body were put on board. I myself sat in the back between the stretchers, all this time there was the noise of H.E. falling and exploding, guns firing and the roar of the fires of burning buildings. Shrapnel was falling like hail -- such was the situation when we set off for Hospital. The driver turned into St Andrews Road where we stopped while another badly injured civilian on a stretcher was put on board. Off we moved through roads covered with debris, fires raging all around until the outskirts of town, when the ambulance ran out of petrol. Our driver left to find a phone and to report our predicament, in this she was successful as after thirty uncomfortable minutes a relief ambulance arrived and the stretchers were transferred and once more we were on our way, arriving at the Borough Hospital [now called Southampton General Hospital] just as two parachute flares were floating down over the hospital - the ground was shuddering as bombs were thudding and exploding. Inside however everything seemed calm, the staff carrying on as though nothing out the ordinary was happening. Once more I was filled with admiration for our womenfolk-- they were splendid.
Two nurses took me in charge and I was taken into a small ward where they started to clean me up. As they got rid of some of the dust and grime they both exclaimed "Oh you're quite young, we thought you were an elderly man". I laughed and the senior nurse said "You'll he alright now, you're in the maternity ward". After they had bandaged me, they took me into a larger ward, guiding me to a stretcher with their torches. I was told to lie down, the nurse then placed hot water bottles round me and covered me with blankets- they left then and as they had been using torches, there was not a glimmer of light in the ward I lay there in the dark, listening to the raid. I stood this for a while, and then got up and groped my way out. I couldn't stand anymore of that. I got out into the corridor and made my way to where light was shining through an open door and found two nurses making tea in a pantry, they were surprised to see me, but soon found me a chair and put a cup of tea in my hands and a cigarette to go with it. I have never forgotten their kindness. They must have spoken to a Doctor, as one came in and took my pulse. I asked if I might return to town, he couldn't release me, the raid was still on and he didn't have any conveyance -- he would come round and see me later.
The 'All Clear' came at 12.30a.m. I dozed and drank tea, till 6a.m, when the Doctor saw me again, after reading my pulse, he said "If you still wanted to go, I could get a lift as far as Shirley High Street in an ambulance that was going there". This I did and then had to walk to Fire Brigade H.Q. where I reported in. The Officer I/C told me to go home and report back when I felt fit enough. So I made my way through our stricken streets wondering whether I should find my wife and children still alive.
Arriving at Holy Rood the fine old church was just a shell, the spire lay across the road, other buildings lay in ruins, I looked and saw that what was left of the Clarence, was still standing, and to my utmost joy found my wife and children safe. My wife told me that they had been driven from three shelters as the buildings above caught fire. After the 'All Clear' she borrowed a couple of candles and opened up the Bar and served all and sundry, for a couple of hours. As the day wore on, sentries were posted and the High Street was closed, we weren't allowed to remain, as there were several UXBs in the area.
At 6.15p.m. the sirens went and I took my family to a shelter, the raid lasted until 11-30p.m. It was as ferocious as the night before - made worse by the lack of water to fight the fires, all the mains having been broken the night before. I reported back for duty the next day. My family went to some relations on the outskirts of the town and our bed for the next three months was a carpet laid on the concrete floor of an air-raid shelter, without heat and in the middle of winter -- and there were many families in the same situation.
On Thursday after reporting back for duty, H.M. King George VI paid a visit to our stricken town and all firemen on duty at H.Q. were paraded for inspection in the forecourt. I was in the front rank and as I still had my bandages, His Majesty stopped in front of me, but with what he had seen, I think he was too choked to speak and with a look full of sympathy, passed on down the line. To-day Southampton stands a new City a monument to those citizens who died and to those who endured her gravest hours also to the gallant men who passed through on the road to final victory.
ARTHUR GLEDHILL. 24-1-1906 to 22-2-1976.